Nothing works quite as well for RVing families, as RV bunk beds. Bunks allow each child to have their own permanent bed and because they are RV bunks they're taking up less floor space than conventional beds.
I've seen a lot of great ideas for RV bunk beds so I've compiled them all here for you to enjoy too! There are some really clever people with great bunk layout ideas and lovely decor.
If you're planning on adding RV bunk beds into your motorhome or travel trailer, or renovating the current bunks, I hope these will inspire you!
If you have a specific question about RV bunk beds, take a look at the contents below and you can skip straight to that section.
RV Bunk Beds Ideas
I've found these great RV bunk beds ideas on Instagram, each of the pictures is a link to the original photo on Instagram, so I encourage you to head to their Instagram to see more of their RV and in particular, the RV bunk beds.
 

 

 

View this post on Instagram

 

 
Converting the brown and dark sofa area of a bunk house, into bunk beds that are light, bright and a great little space for each of the children.
 

 

 

View this post on Instagram

 

 
These bunk beds replace the jack knife sofa and have been so well built it looks like part of the original.
 

 

 

View this post on Instagram

 

 
Look at these super cute bunks! 
 

 

 

View this post on Instagram

 

 
Plenty of drawers beneath these bunk beds.
 

 

 

View this post on Instagram

 

 
Four bunks for the Longnecker family in their awesome Airstream.
 

 

 

View this post on Instagram

 

 
@Troopnashville have done some amazing RV renovations (go and check out their Instagram and you'll immediately see what I mean) and I love that even though these triple bunks are tucked away in the corner (beside the toilet, no less) they still manage to look inviting and cozy.
Vintage RV Bunk Beds
Below are some of the vintage caravan renovations that I follow here in Australia. We featured these in the post about the Travel Trailer Remodel Ideas, but these one's have bunk beds in them and I think you're gonna love them! 
Wilde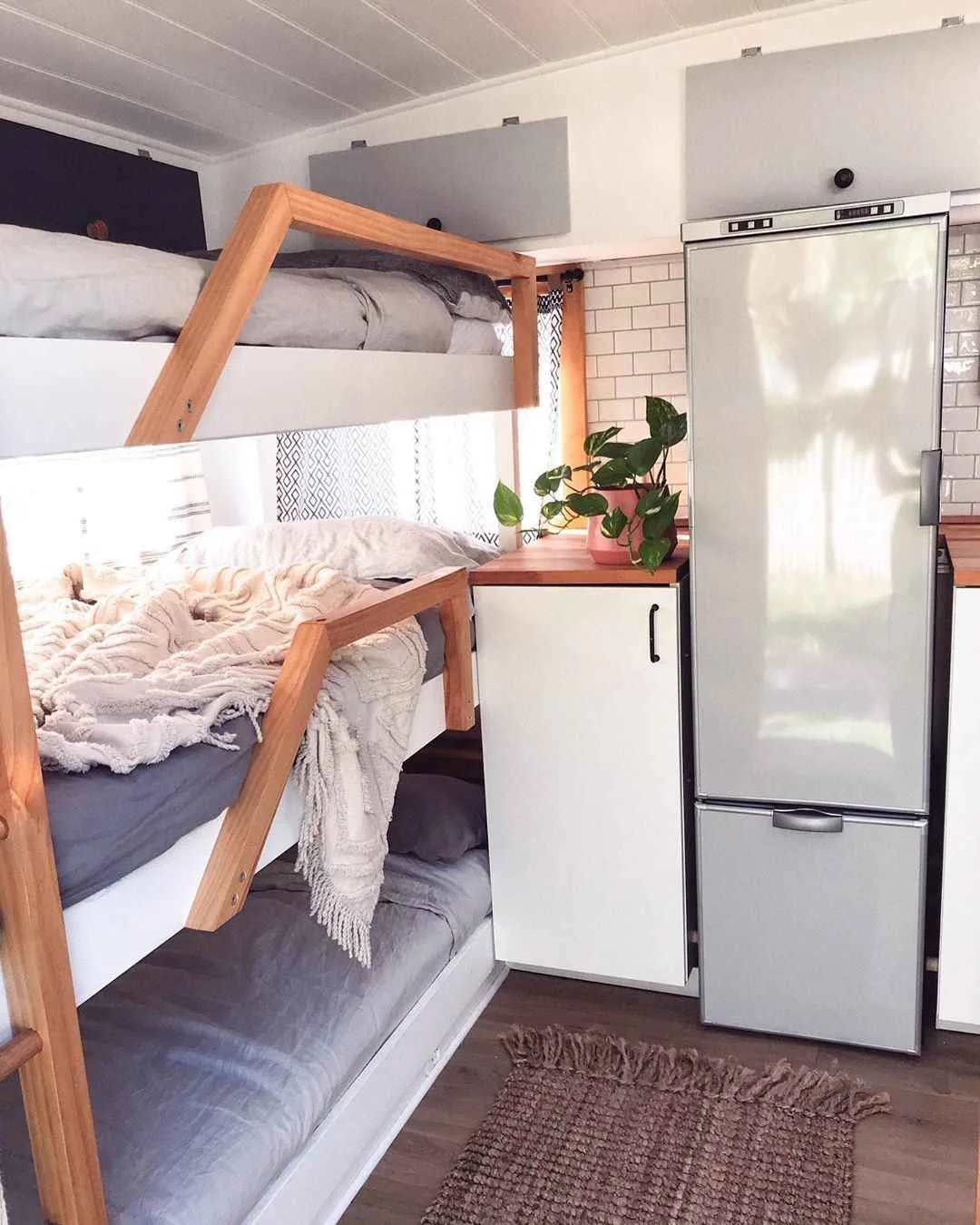 The Saville family manage to fit triple bunk beds into their caravan 'Wilde'. Head over to their Instagram @the_wilde_life_ to see more of this family's adventures around Australia in 'Wilde'.
VanWarro
These double bunks fit snuggly down one end of @VanWarro.
Daisy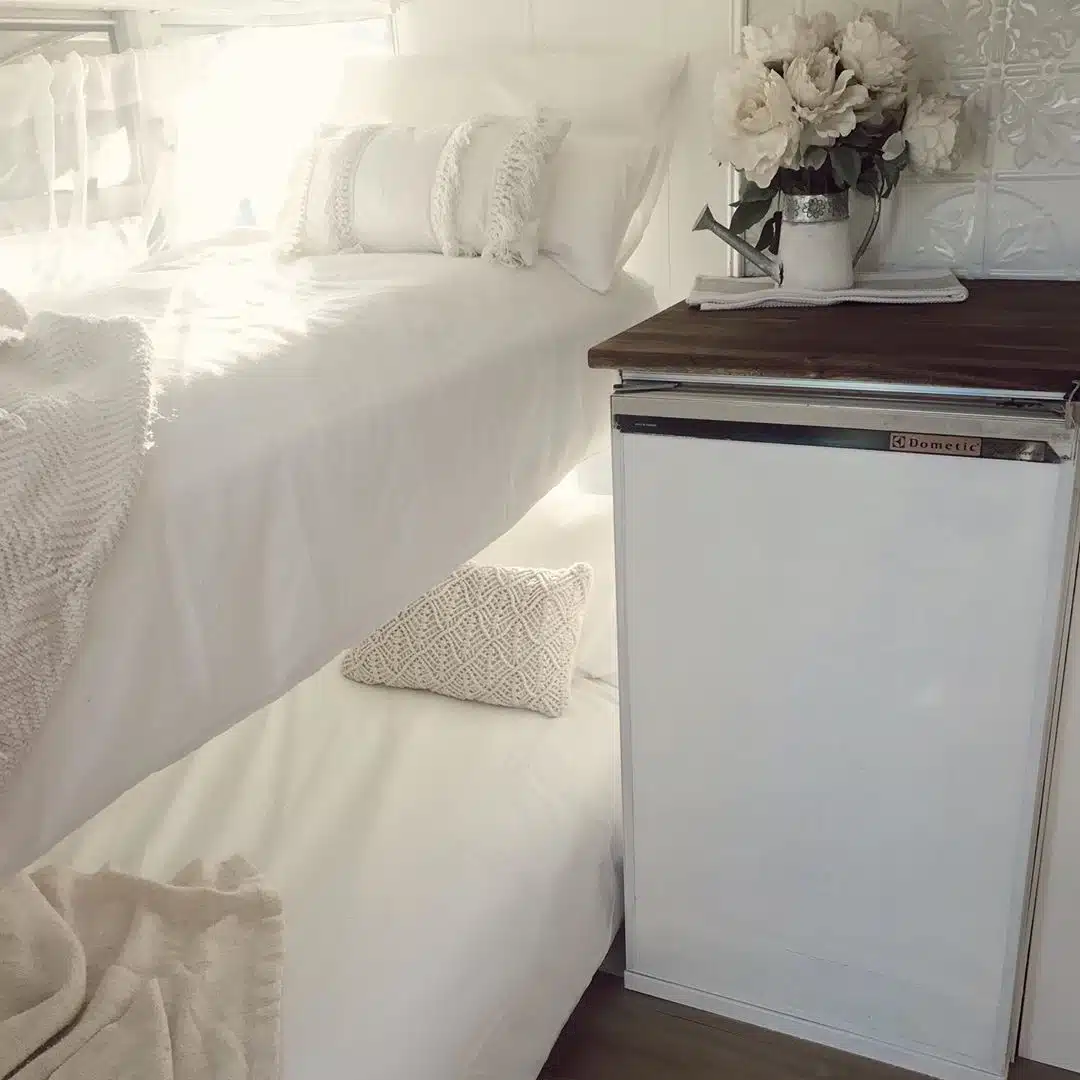 Daisy is a little 1979 Viscount caravan that was renovated by Kasey and her family. The double bunk beds at one end look so inviting and dreamy!
Mona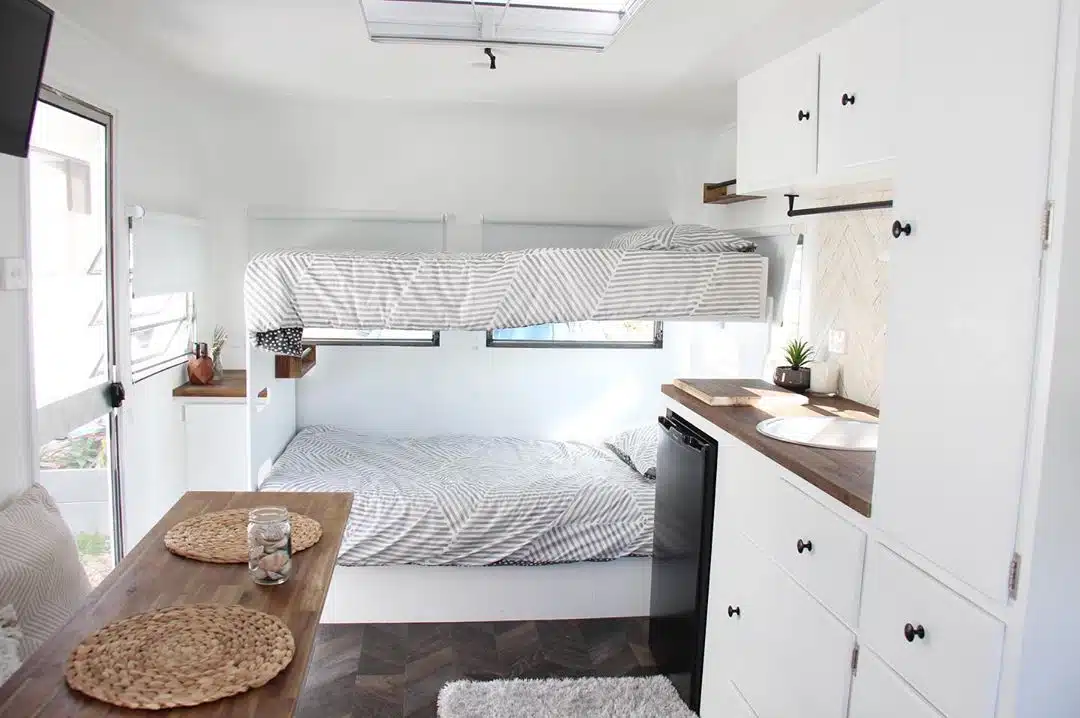 I love this renovation by Chris and Amanda, and the kids bunk beds are a winner!
Sadie
Sadie is a 1971 Spaceline caravan and with those great RV bunk beds, this little family gets to enjoy weekends away in her.
You can read more about Sadie and her renovation over on her blog: www.weekendswithsadie.com
Violet
If you love the olde world / farmhouse look, you're going to love Violet. These bunk beds fit the bill with the wood panelling on the side of the bunks, and that well-used RV bunk ladder. 
You can see more of Violet and her renovation over on Lauren's Instagram @huddyandme.
RV Bunk Mattress
RV bunk mattresses come in so many different sizes, shapes, materials that I definitely can't recommend a 'one size fits all approach'.
I've seen many, many RVers who will buy a foam mattress and cut it down to fit their bed or bunk.
I found this site that has helpful information about RV mattresses, that may help you understand what you need for your bunks. https://www.thesleepjudge.com/rv-mattress-sizes-types/
RV Bunk Sheets
As you look at more and more RV bunk beds, you'll find more and more frustrated people who HATE having to change the sheets on the bunks. 
That's where zip-on/ zip-off sheets really make a huge difference.
You put the bedding on the mattress once, and when it's time to change the sheet, you zip it off, and then zip a new one on. Easy peasy!
RV Bunk Ladder
You'll see in the examples of RV bunk beds above, that most of the ladders are made to fit the bunks. But if you need to purchase an RV bunk ladder, here are a few recommendations.
RV Bunk Bed Safety Net
 

 

 

View this post on Instagram

 

 

@wilsongrandadventures use netting to keep their little ones safe in their bunk beds. (Swipe to see)
 

 

 

View this post on Instagram

 

 
@leisegangadventures have created a unique gate for the lower bunk (crib) using the ladder.  
 

 

 

View this post on Instagram

 

 
@ourvintagecaravan used a retractable gate on the lower bunk, to keep the baby safe inside.
And a couple of questions I've seen pop up about RV bunk beds:
What size are RV bunk beds?
Since many of these RV bunk beds are custom made, they're sized to fit the RV and the child who will be sleeping there. 
Even 'regular' sized bunks will vary in size from RV to RV. It can range from 28 x 75 to 35 x 75 inches.
Do you have any other questions about RV bunk beds? Pop them in the comments below and we'll try to find the answers to them.
I hope you've got some inspiration from these awesome RV bunk beds! If you're looking for a new motorhome (rather than renovating one) that already has bunks, we've put together a list of all the manufacturers that make a Class A RV with bunks.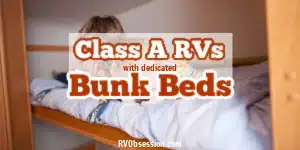 Save these RV bunk bed ideas to Pinterest