Small Kitchen Storage Ideas for your RV
If you're looking for some small kitchen storage ideas, hopefully these will give you some inspiration for how you can organize the space in your own small RV kitchen.
Sometimes I wonder if some of the RV kitchens that I see can actually be classed as a 'kitchen'; they're so small that I'm surprised if anything more than a cup of tea can be prepared in the space.
But no matter how large or small your RV kitchen is, there are always ways that you can utilise the space so that you get maximum storage and use out of it.
I know many of us don't go RVing so that you can spend hours cooking and preparing meals, but you do want whatever space you do have, to be practical and useful.
Here are some of the most useful small kitchen storage ideas that I could find.
Other posts about storage that you should check out:
This post contains affiliate links. Please see our disclosure for more information.
Create a hideaway in false sink fronts

I find it frustrating that some RV manufacturers would allow dead space in their rigs, when it could be used for storage. So I love this great tip from All Things Free that makes great use of the empty space at the front of your RV kitchen sink.
My disclaimer to this is that there are some places in your RV that you don't want to use as storage. Like, they're left empty and inaccessible because they are ventilation spaces or something like that.
But the front of the sink is perfect for storing dishclothes etc!


Use magnetic spice containers
These magnetic spice containers can be stored on the door or side of the fridge, or if you have a steel splash back then you can store them there and have them right at hand.
My friend Ashley created a whole wall of spices in her fifth wheel kitchen, you can see how she did it here.


Use a tension rod to hang spray bottles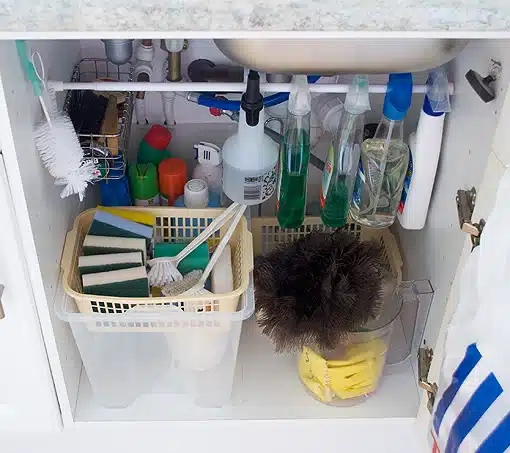 This is an easy-to-implement idea from A Thousand Words and it's great because it gets the bottles up off the bottom of the cupboard so that you can utilize the space for other things.

Hang things on the inside of cupboard doors by using:
Hooks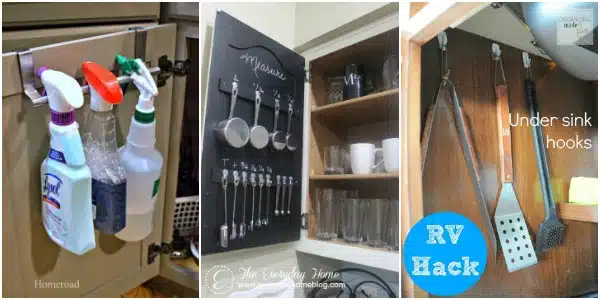 Either over-cupboard, fixed or adhesive hooks:



Baskets, boxes or racks

Baskets and boxes don't have to be what you would normally think, these document holders work perfectly for foil, plastic wrap and baking paper. (Fun fact: in NZ aluminium foil = tin foil and plastic wrap / cling film = glad wrap).


Store things vertically
Source: Mimi's Crafty World

Use Stackable Shelves
Source: A Place for Everything

Bag Organizers

---
Stuck for ideas? Need help with finding more storage space in your RV?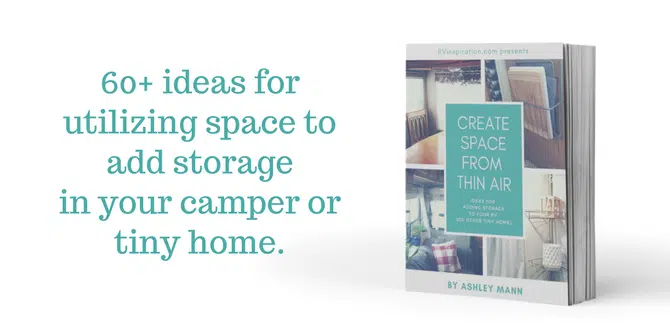 ---
If you're renovating an RV or converting a bus or van, then the world is your oyster! Rather than just trying to add storage spaces wherever you can, you can incorporate storage solutions into your design. Here are some of the great ideas that I think are worth exploring.
Pull-out pantry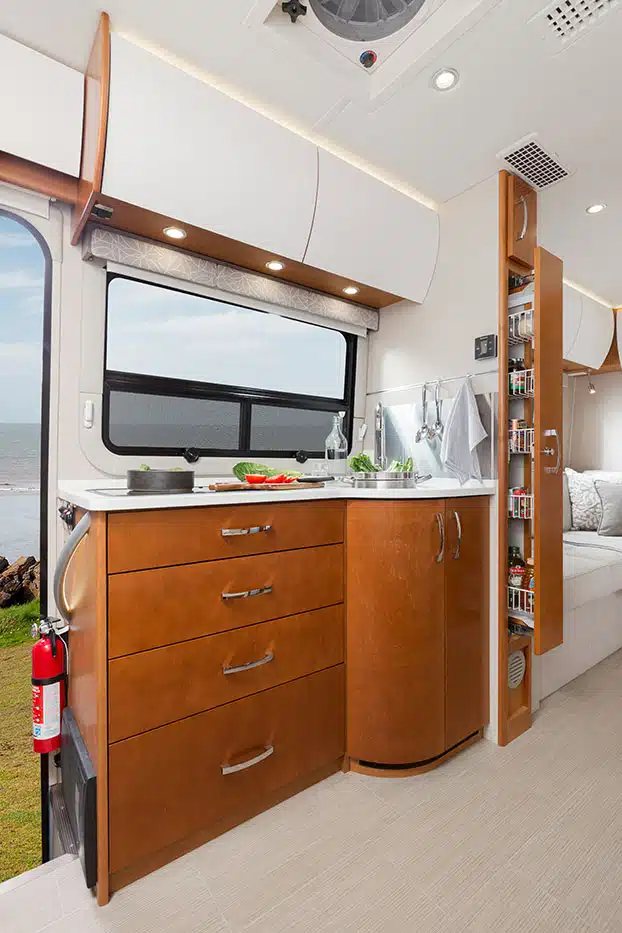 This one's a no-brainer really, isn't it? Source: Leisure Vans
Hideaway microwave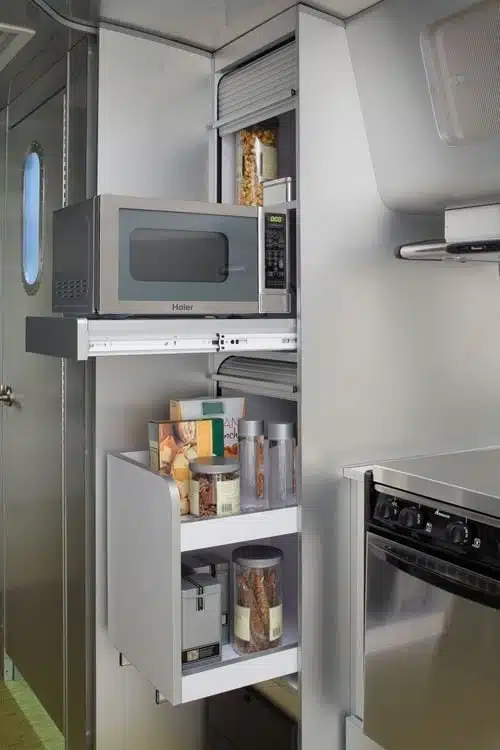 A microwave is often only used for really short amounts of time and rather infrequently, so it makes sense to hide it away and bring it out only when it's needed. Source: Apartment Therapy
What other small kitchen storage ideas do you have?
Save these Small Kitchen Storage Ideas to Pinterest