We've had our vintage travel trailer for over 18 months now and I'm still on the lookout for travel trailer remodel ideas. We 'should' have done the travel trailer renovation by now, but we live in it full time so there's no way we could be remodeling our travel trailer while also living in it.
So until we can renovate, I look, and dream and wish for other people to come and do the hard work for me!
Our vintage travel trailer is a 1979 Millard Pop-top Caravan 14ft. Millard is a popular Australian caravan brand that were prolific during the 60's and 70's, and there are quite a few of these 40 year old travel trailers (as well as a few other brands) that are being renovated here in Australia.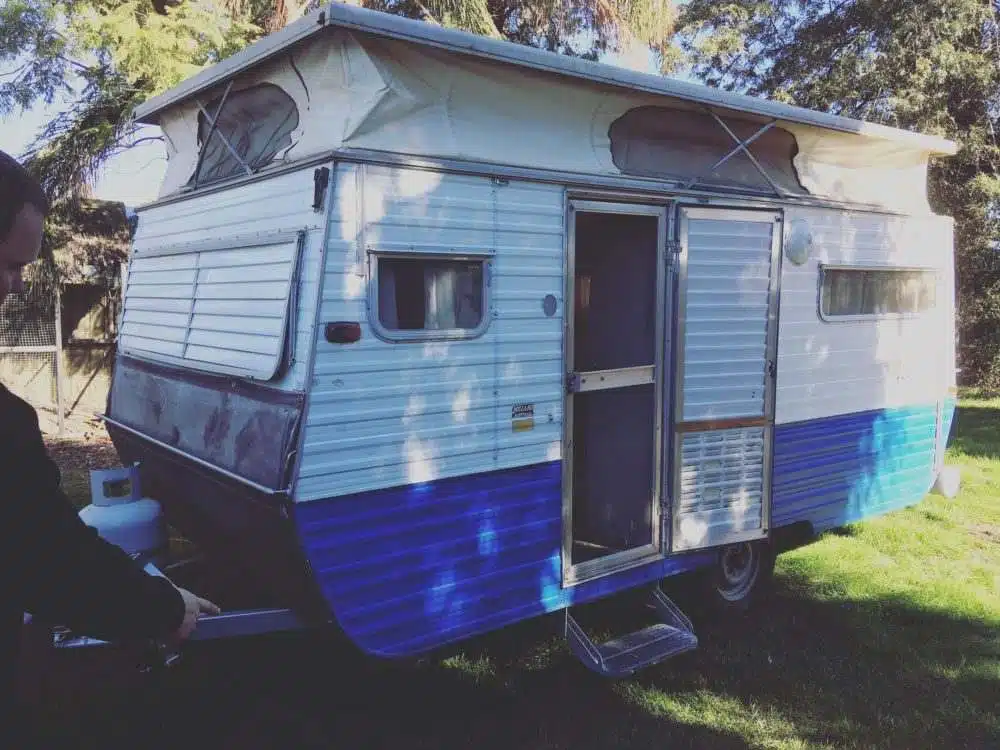 I've been hunting out these renovations to get travel trailer remodeling ideas for our own trailer, and I've put them altogether here for everyone to enjoy.
Other renovation posts you may enjoy: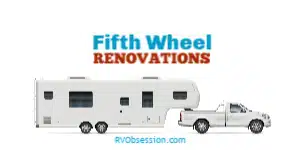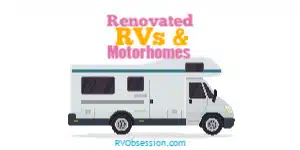 Note: these travel trailer renovations are Australian based, I'm saying that because it's unlikely that you'll recognise the travel trailer brands. But if you're planning your own travel trailer remodel or vintage travel trailer restoration, there is just so much inspiration for you here!
Another note: I've linked back to the Instagram account of each of these travel trailers, and I encourage you to head there to see more pictures of these fabulous travel trailer interiors.
Are you ready to have a look at these travel trailer remodel ideas…!!?!
Travel Trailer Remodel Ideas
Wilde
"To live is the rarest thing in the world, most people just exist." ~ Oscar Wilde.
With 3 young boys, this travel trailer needs to be practical, but it also manages to look 'pretty' with her vintage faucet and those luscious wooden countertops and table.
The Saville family renovated Wilde (a 1960's Viscount Embassador)  themselves and she's now become their adventure holiday home on wheels!
Warm wood table and counter tops
The interior of this travel trailer doesn't include loads of wood, but the wood that is used on the table and counter tops is rich and warm.
You can find more pictures of Wilde over on their Instagram @the_wilde_life_.   
Ollie
Ollie has been converted from an 80's eyesore (1982 Windsor Statesman)  into a stylish and modern, yet cozy and family friendly retreat.
Owner Danielle describes both her and her husband Brad as 'handy man disabled' so they made sure to buy a travel trailer that was structurally sound and that they could do most of the work themselves.
With a little help from dad, they have made themselves a fantastic holiday home on wheels. Ollie will provide this family with years of fun times, new adventures and special memories.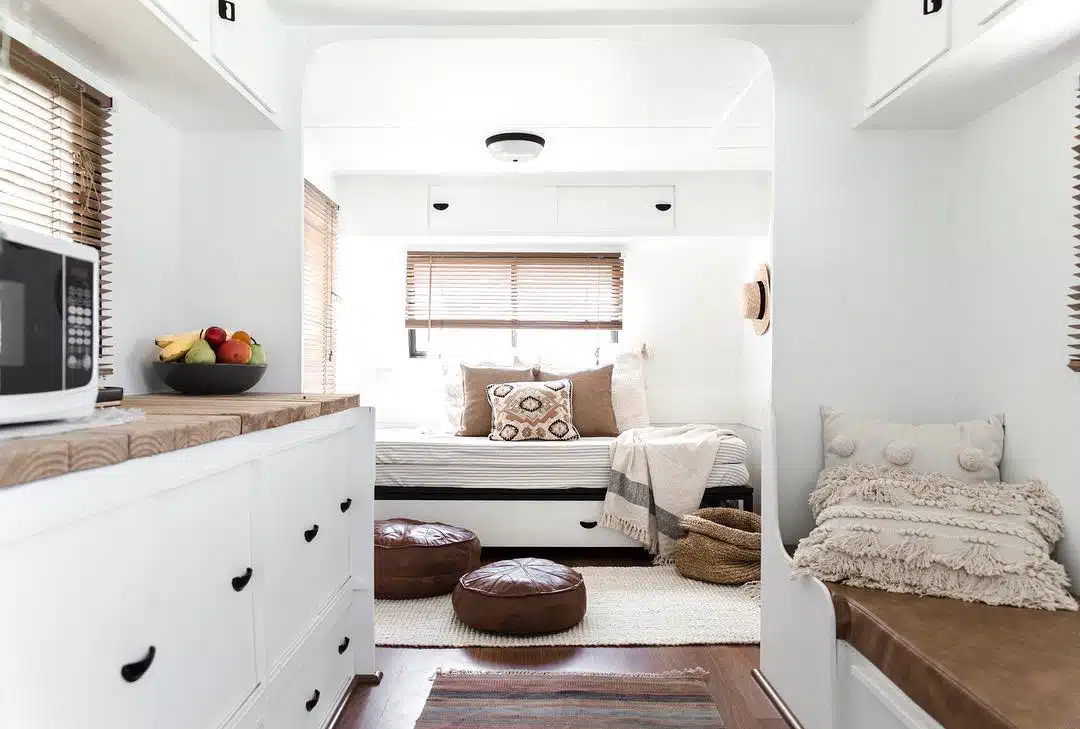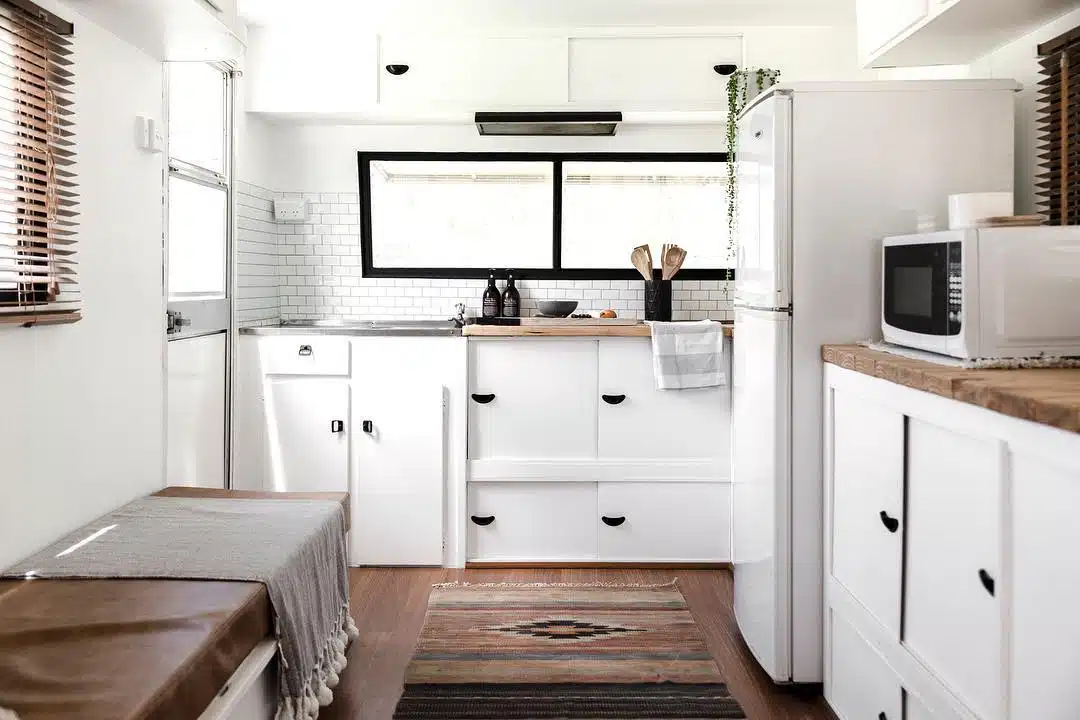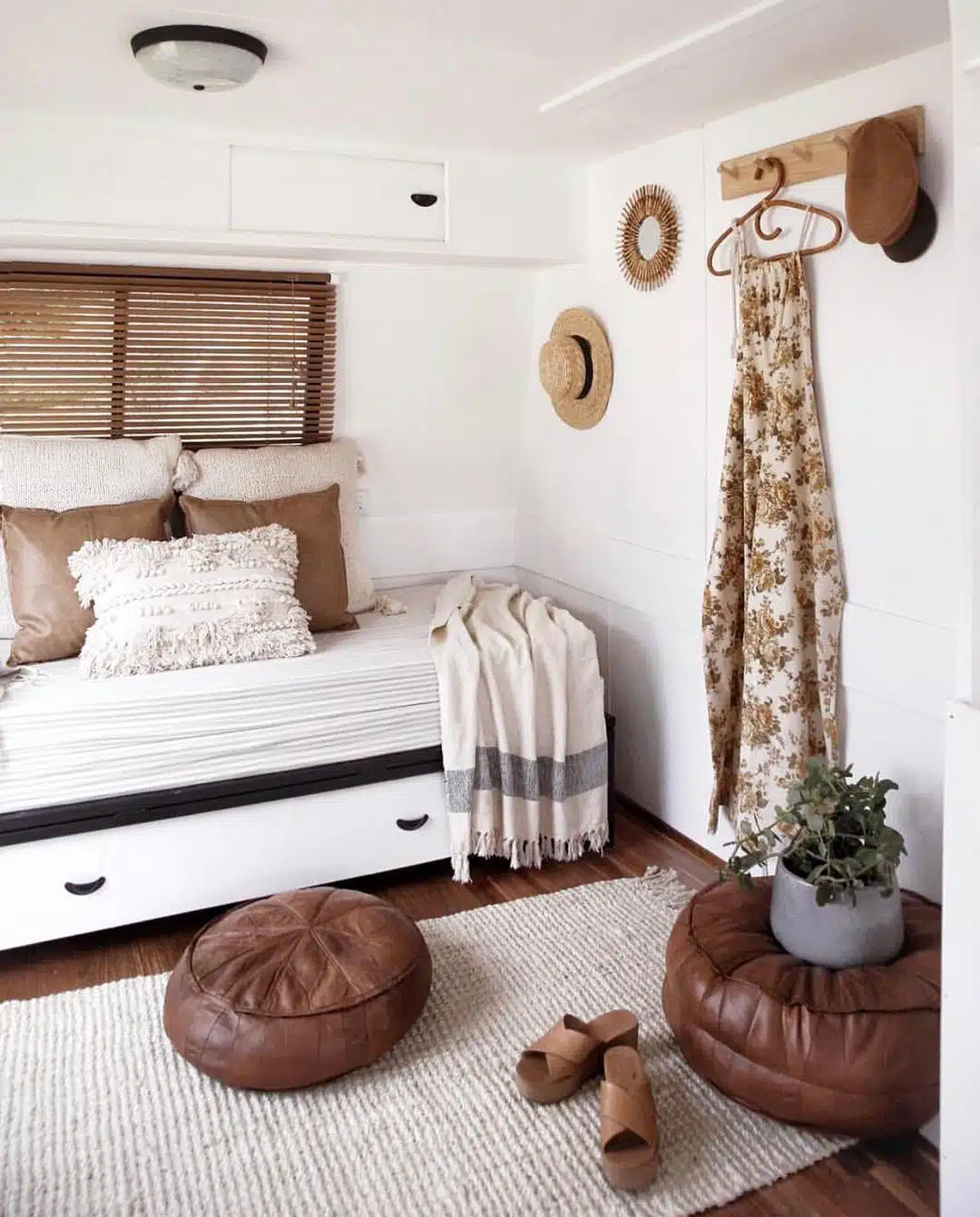 Day bed for a master bed
In a break from what everyone else is doing, Danielle decided that the master bed would be a day bed that converts to almost a king size bed in the evening. This way, the family has plenty of space in the trailer during the day, but mom and dad get a decent nights sleep on a bed that's built for two!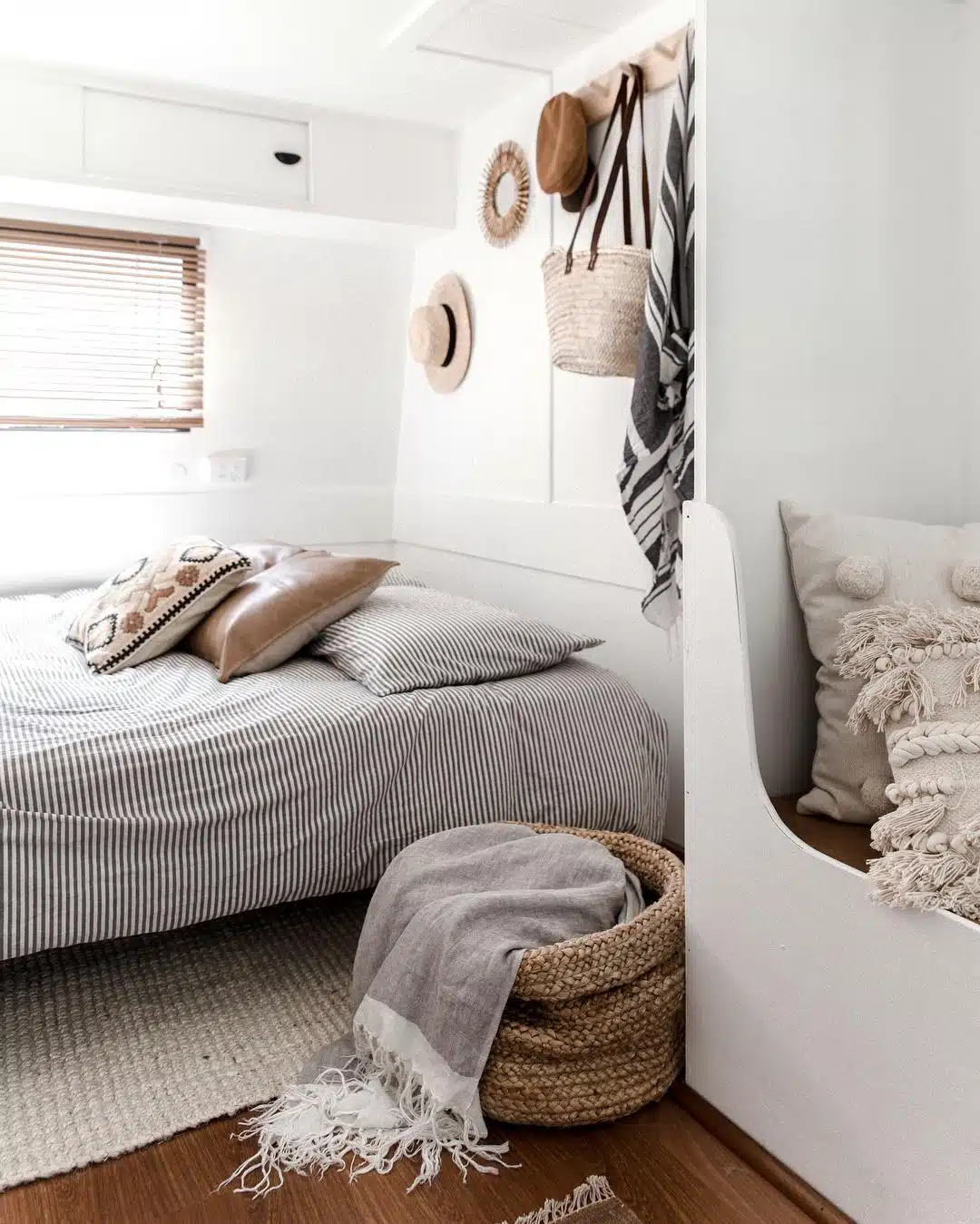 Danielle has lots more pictures of Ollie over on her blog post 
Or you can follow her and ollie over at @danielle_symes on Instagram where you'll get served up some great photos along with her sometimes irreverent (& often hilarious) Aussie humor.
VanWarro
With all these lovely textures and warm colors, this 16ft Viscount caravan has come up a treat! Nikki and her family love heading off on vacations in their little travel trailer, where there's always somewhere warm, cozy and calming to retreat to.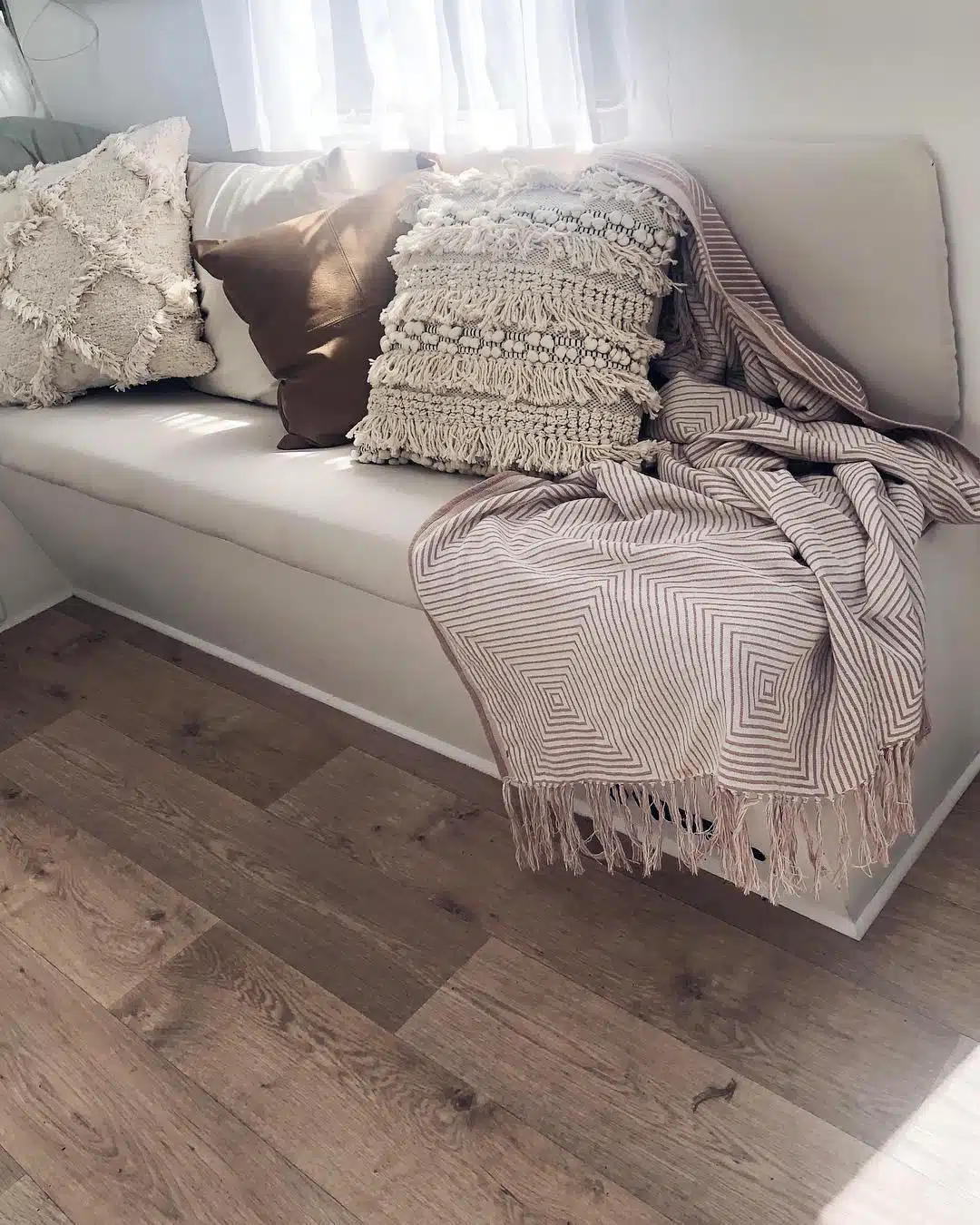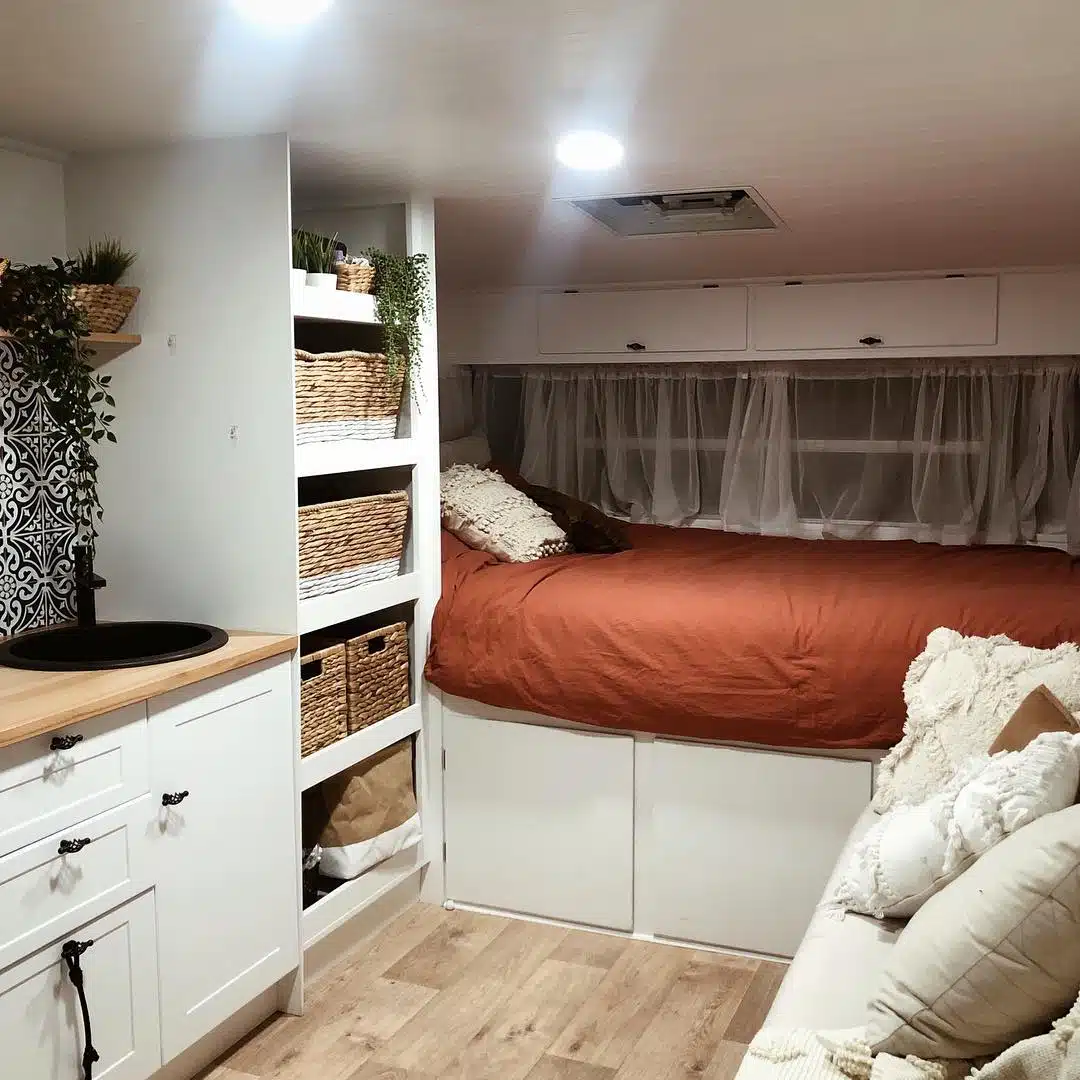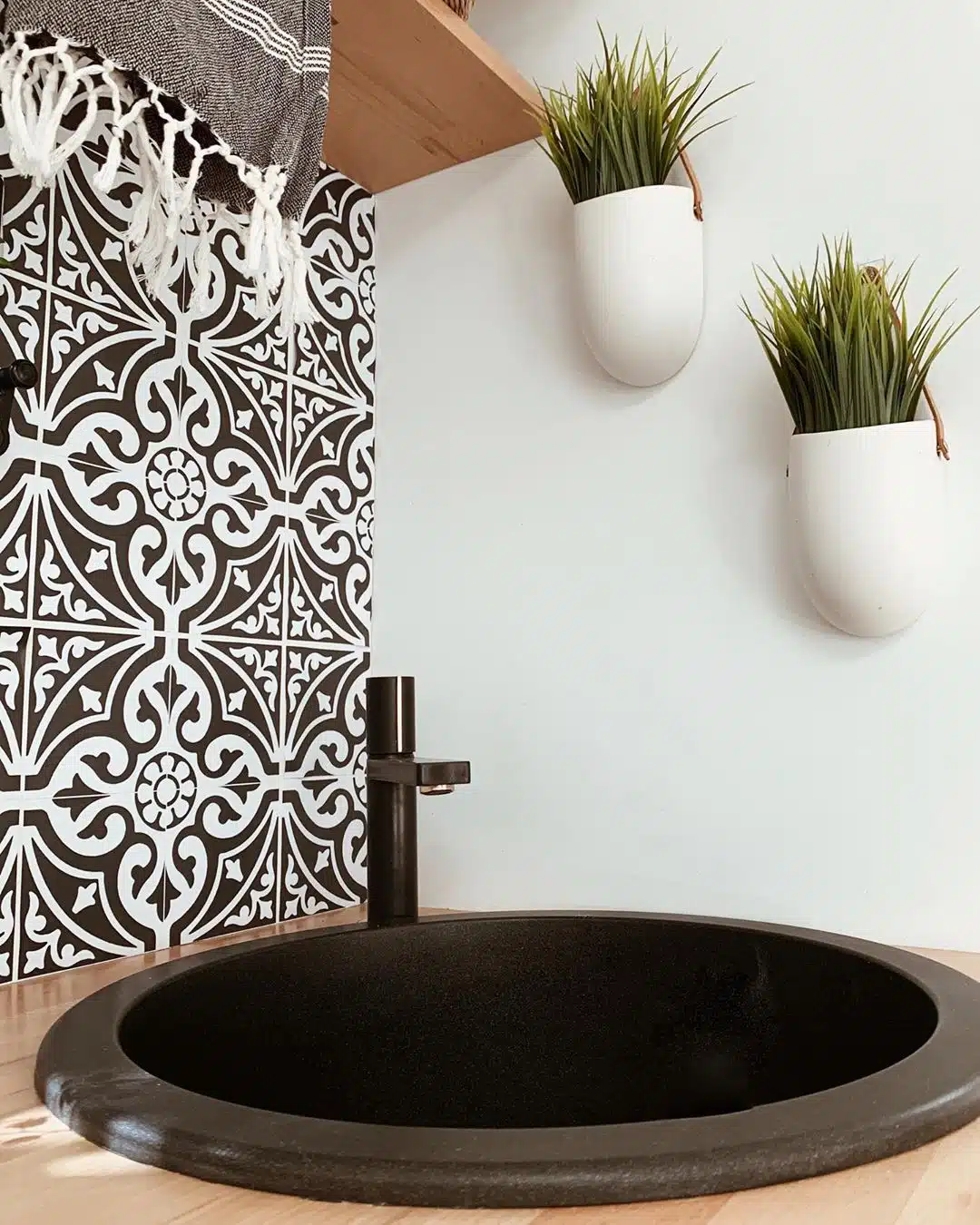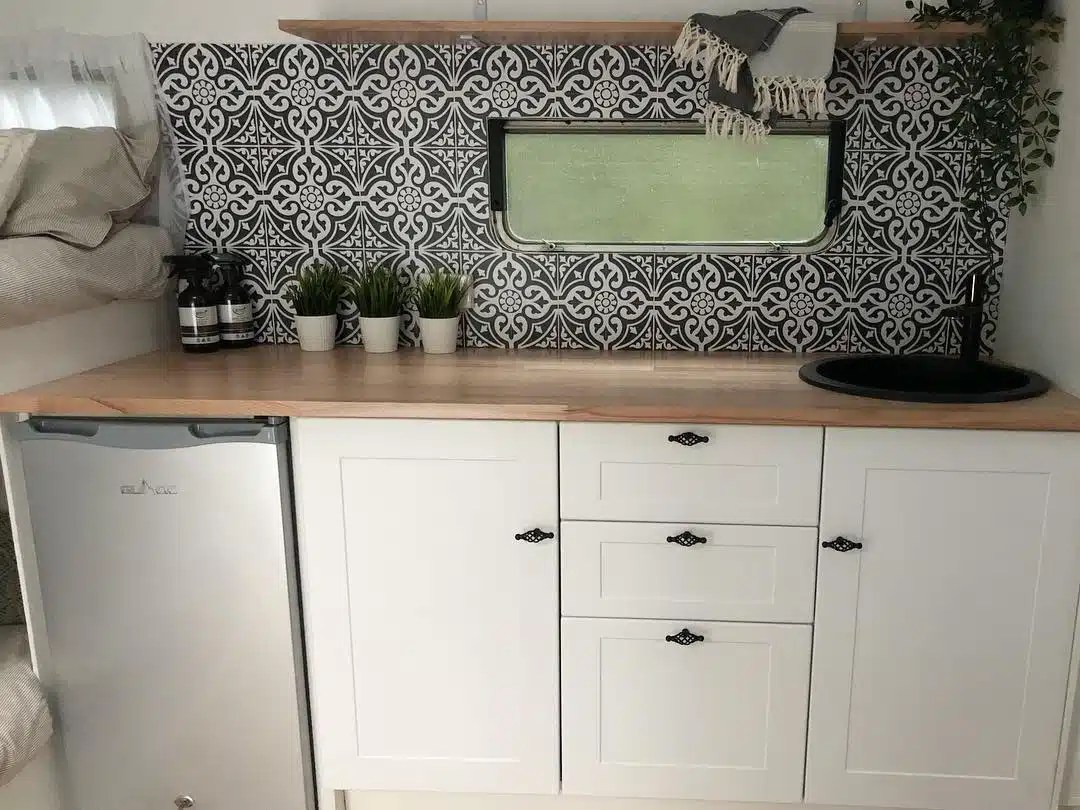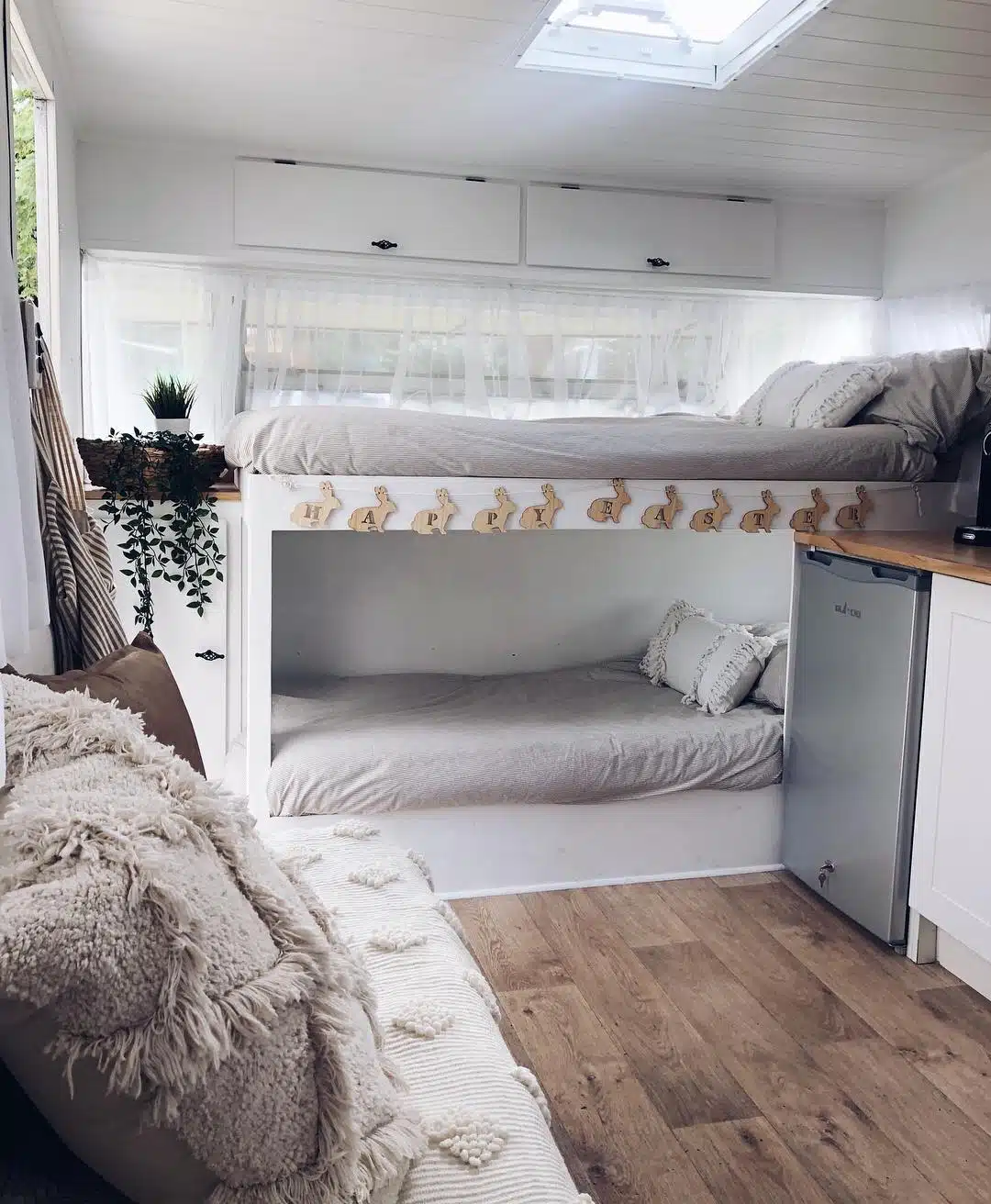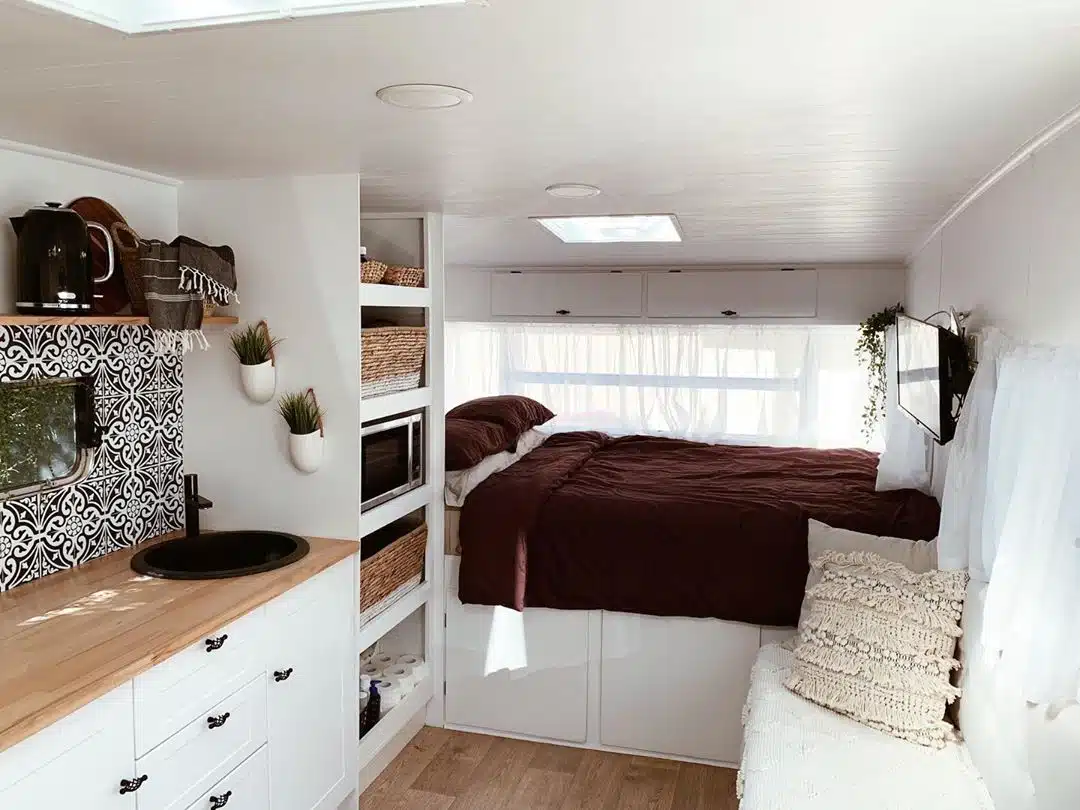 Basket storage
One of Nikki's great ideas was to use the closet space for shelving instead and add these wicker baskets to store all their things.  There's a lip at the front of the shelf to stop the baskets from moving during travel.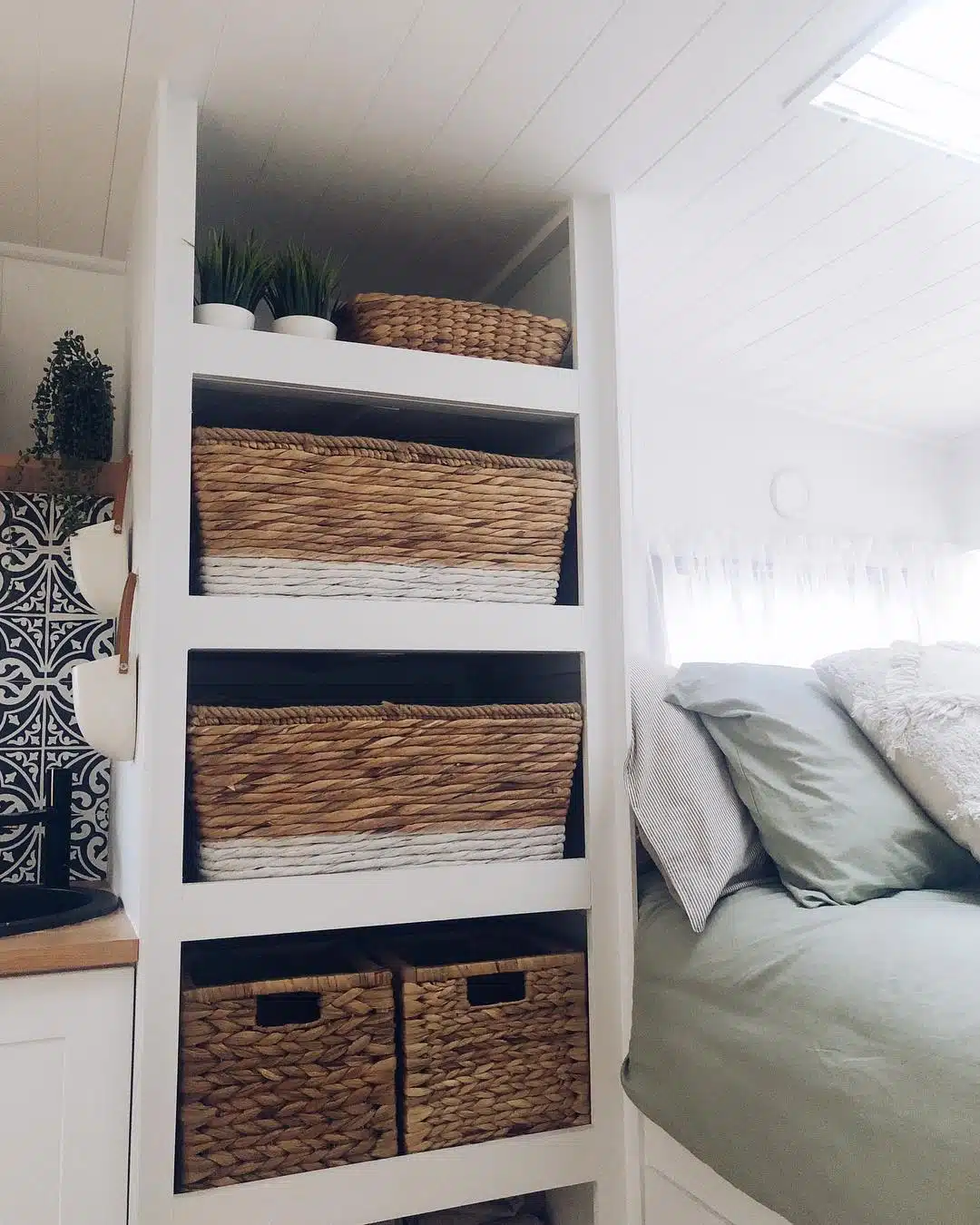 See more of this travel trailer over at @vanwarro on Instagram.
Daisy
This little travel trailer didn't have a massive remodel, just the kitchen area was completely removed and rebuilt while the rest of the caravan got a new coat of paint, new flooring and new upholstery.
Kasey and her family (mom, dad and 3 little ones) have a delightful holiday home.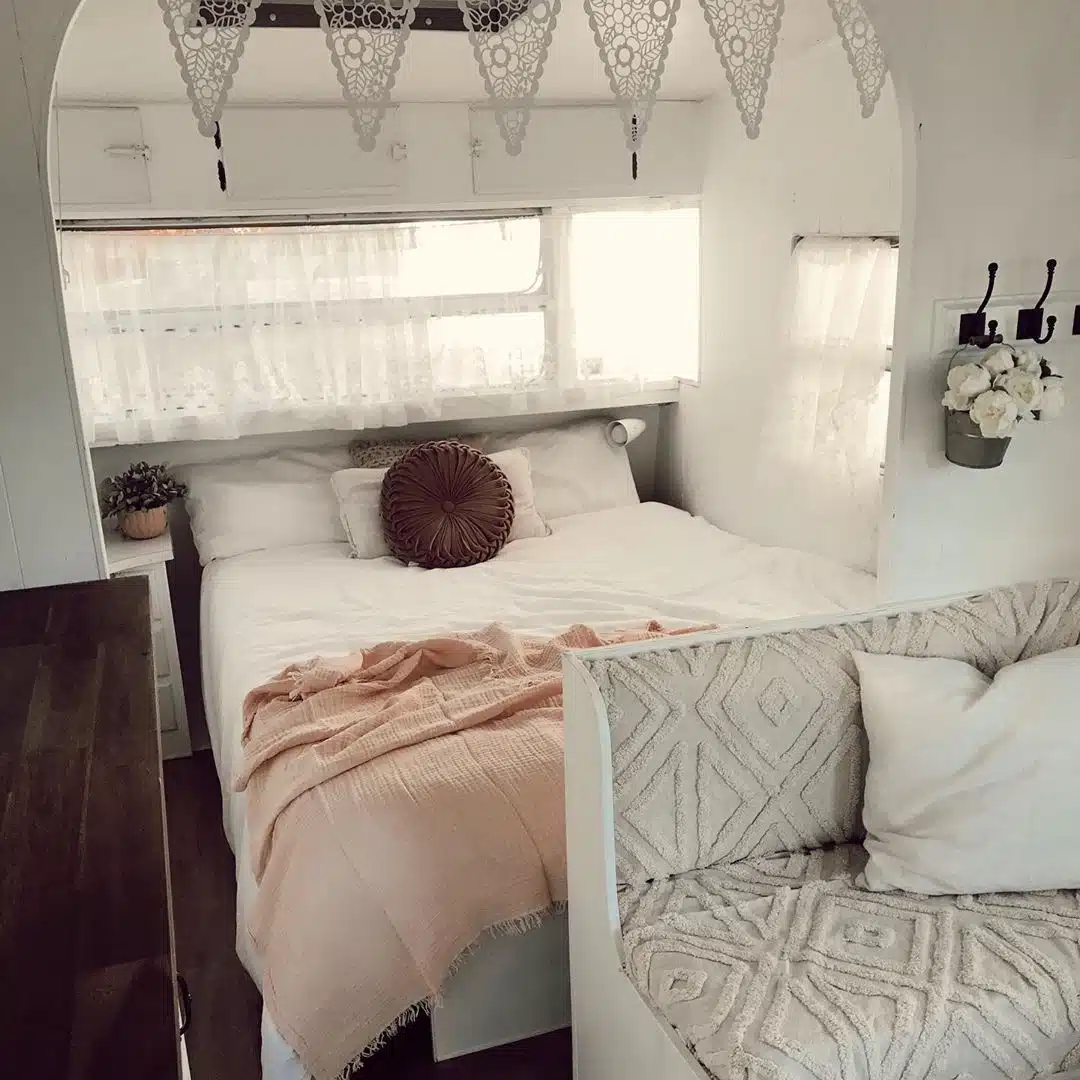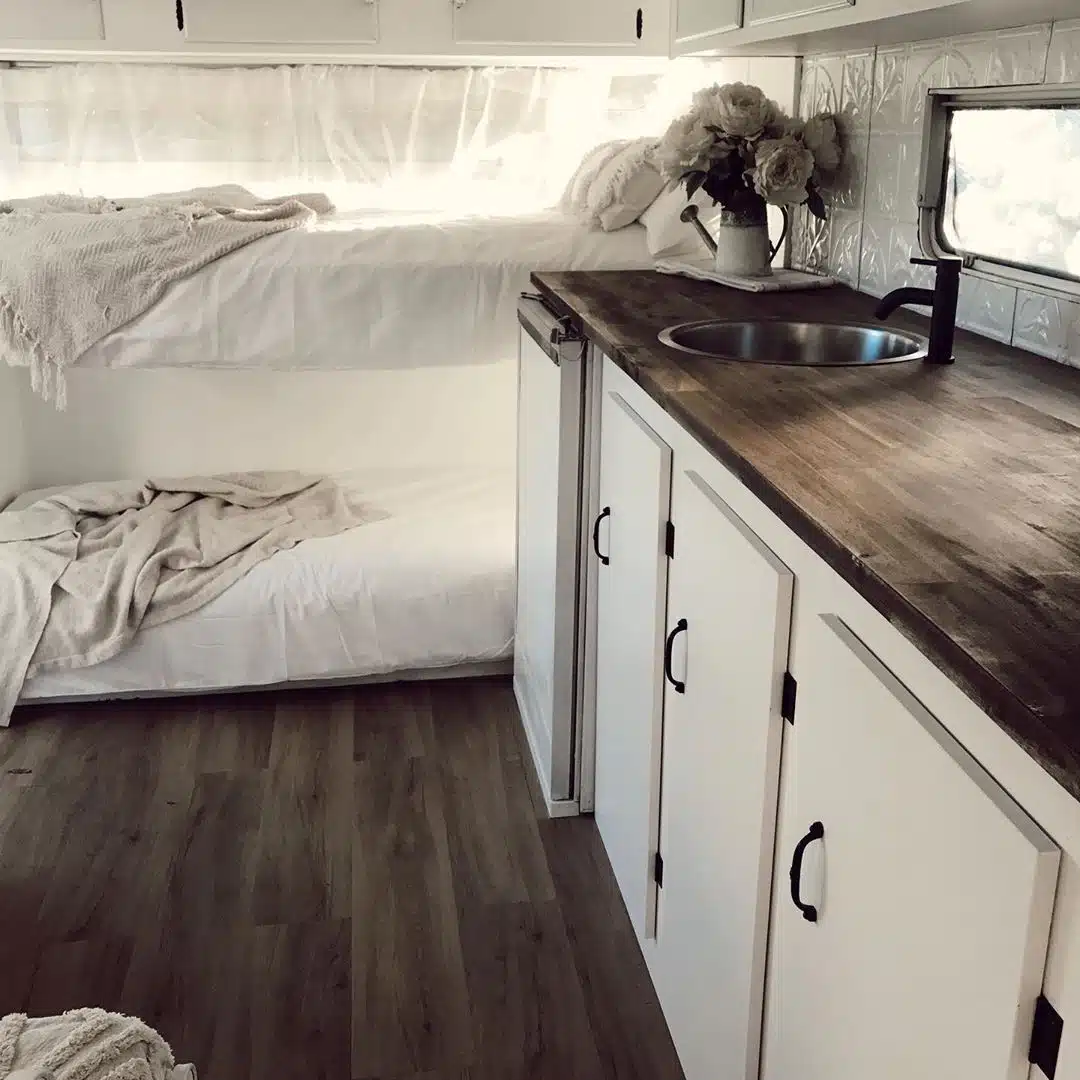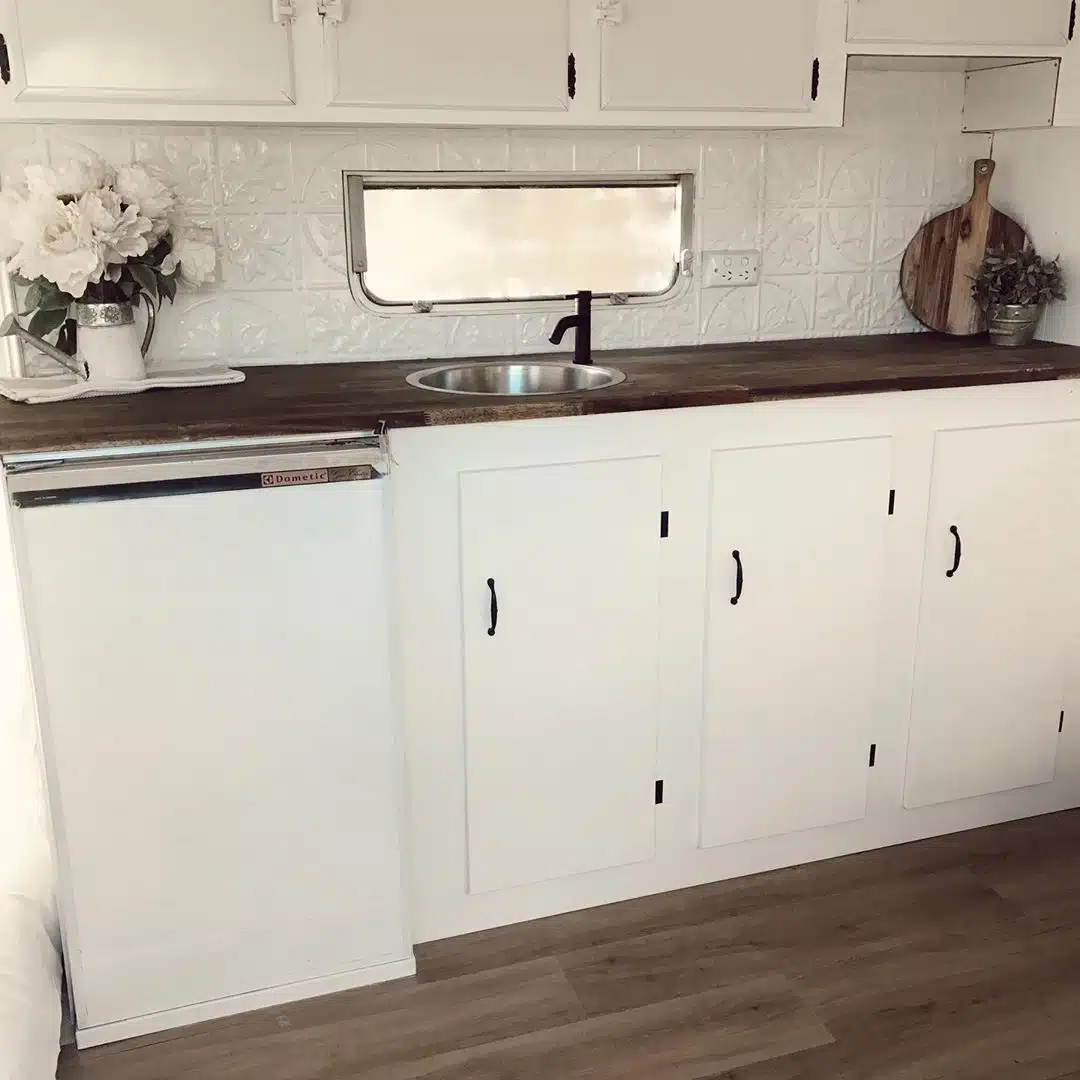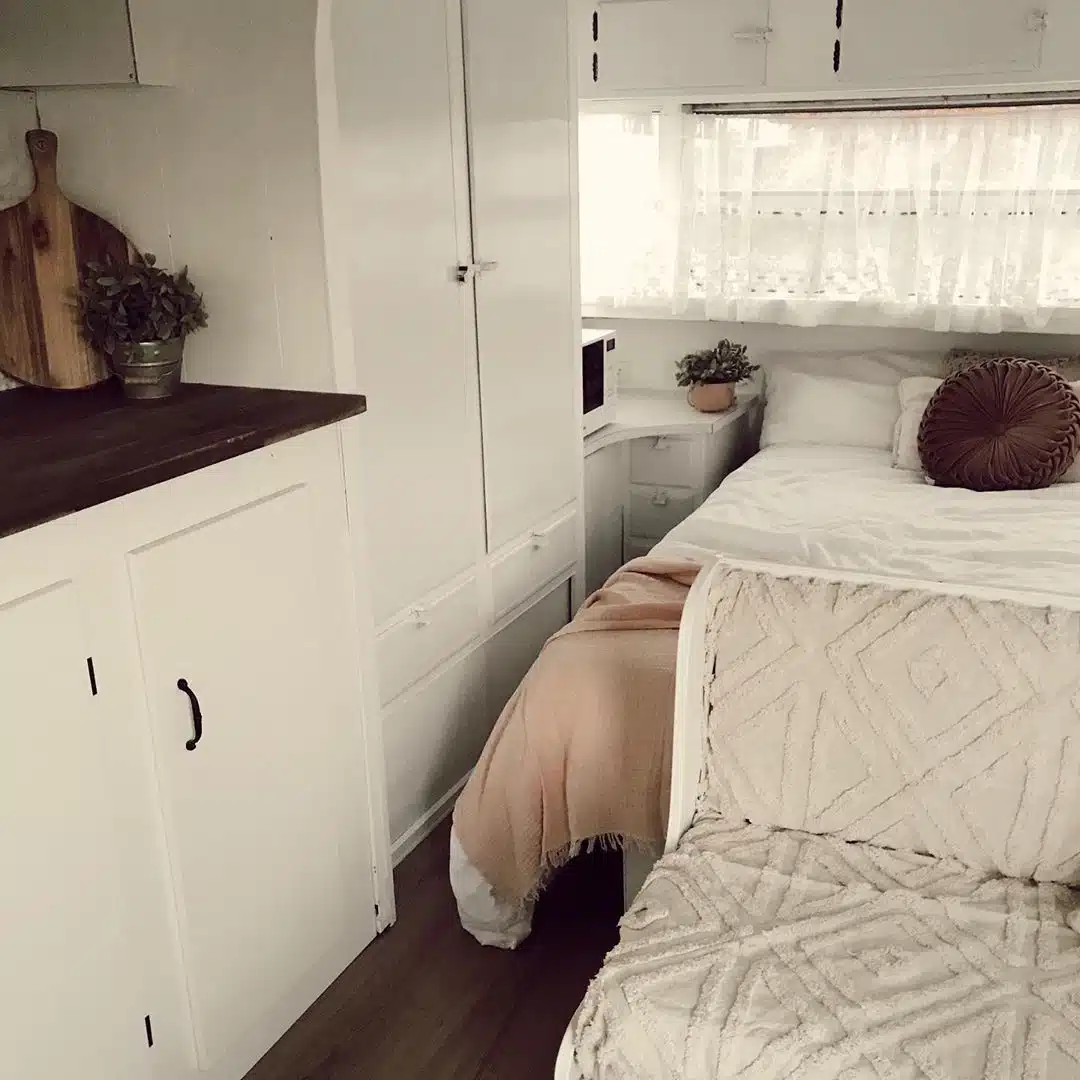 A white canvas
Starting with a white canvas is not new, I've seen many comments online where people think it's too clinical and stark, and way too hard to keep clean.
Yet, here is Daisy, a beautiful example of a white interior that is cozy and luscious and light. And this family includes 3 young children, and mama has said that it's not too hard to keep clean. (Although she has admitted she's a clean freak!)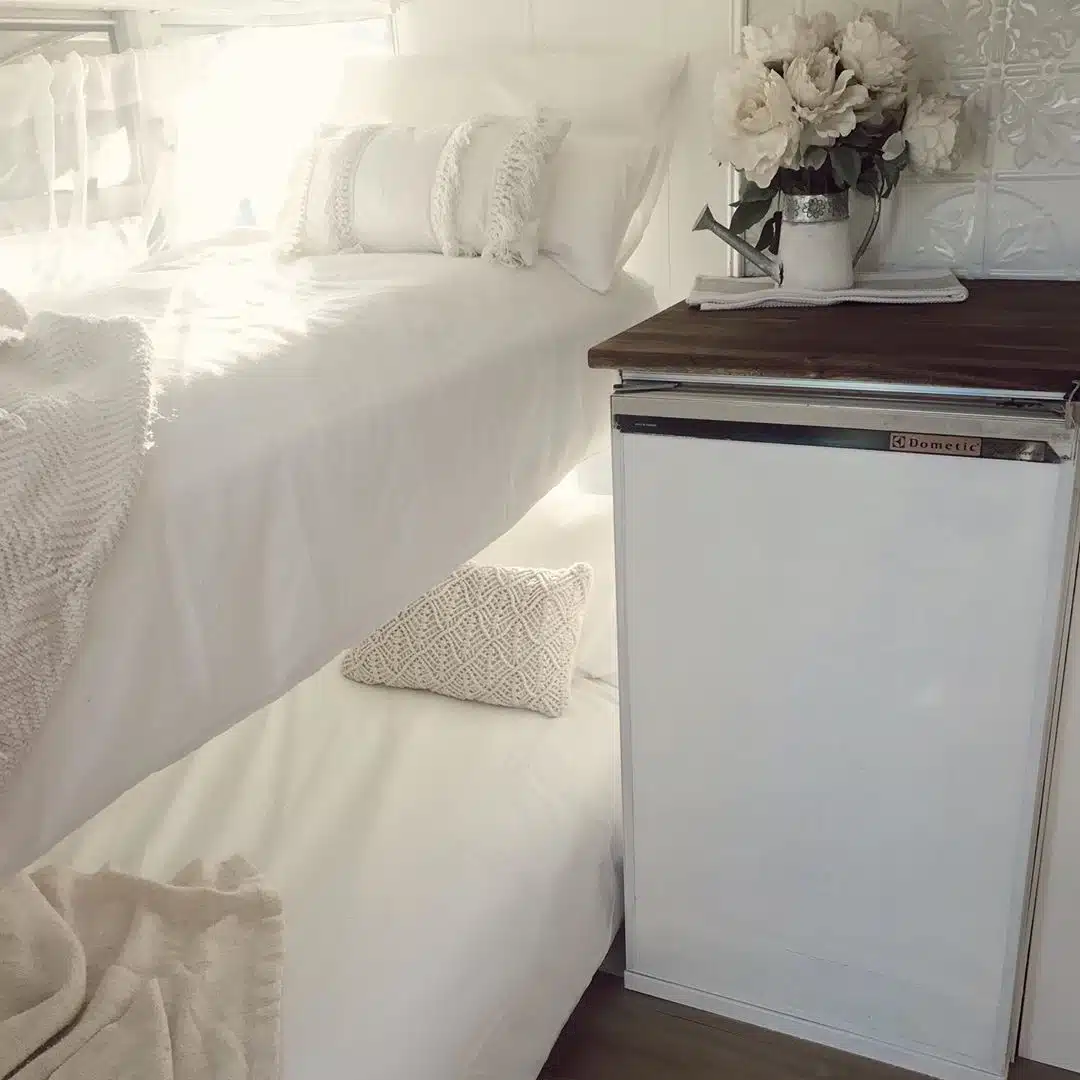 See more of beautiful Daisy (and her lovely family) over at: @ourlittletribe_  
Sadie (1)
Sadie the Spaceline is a 1979 model and she was renovated in just 3 months by Sarah and Mitch.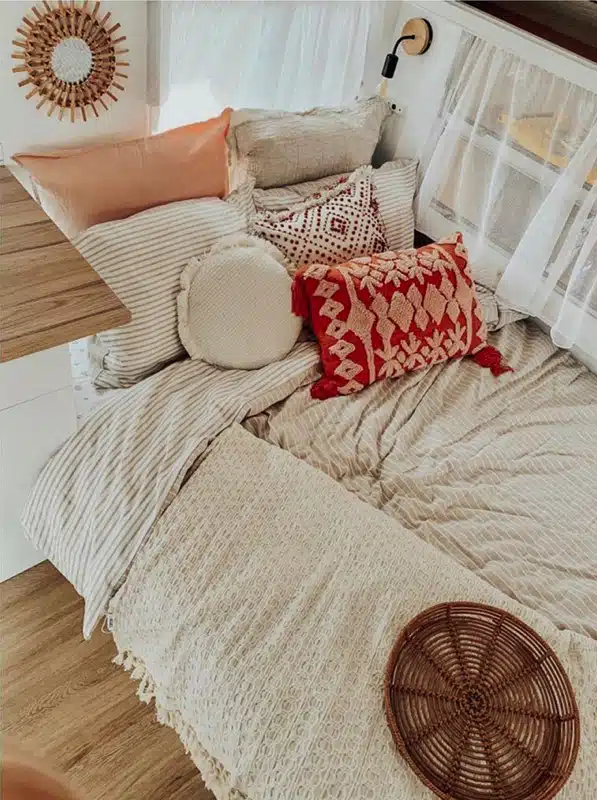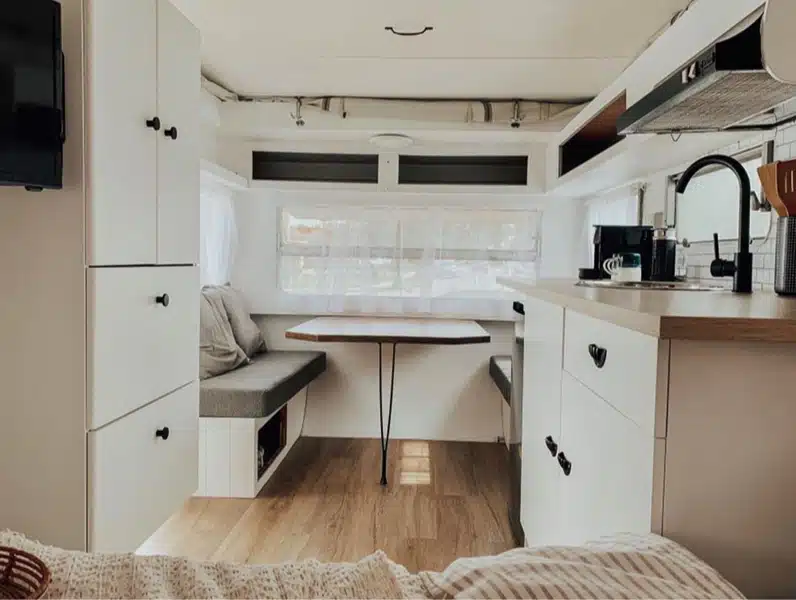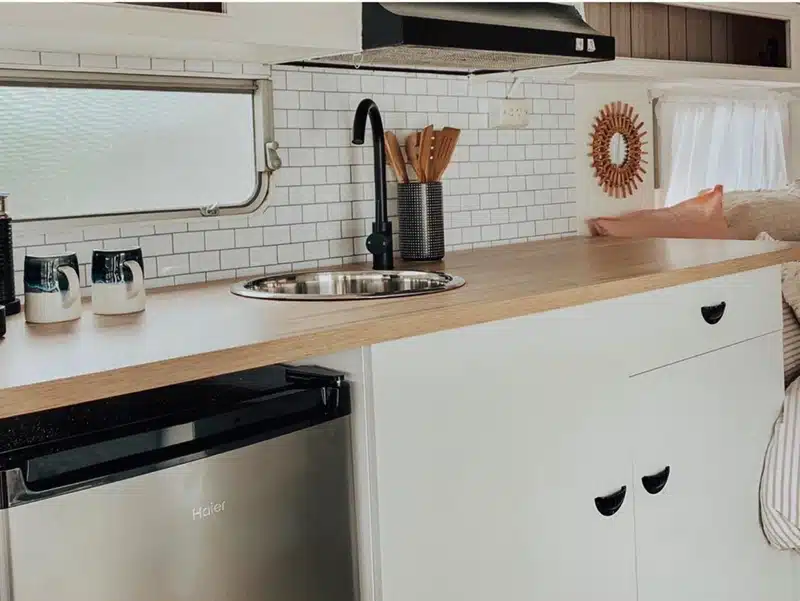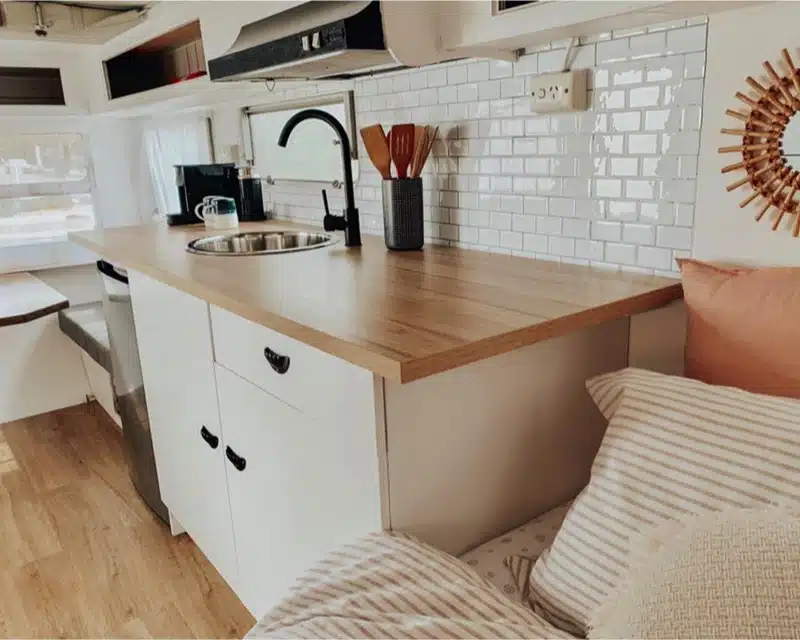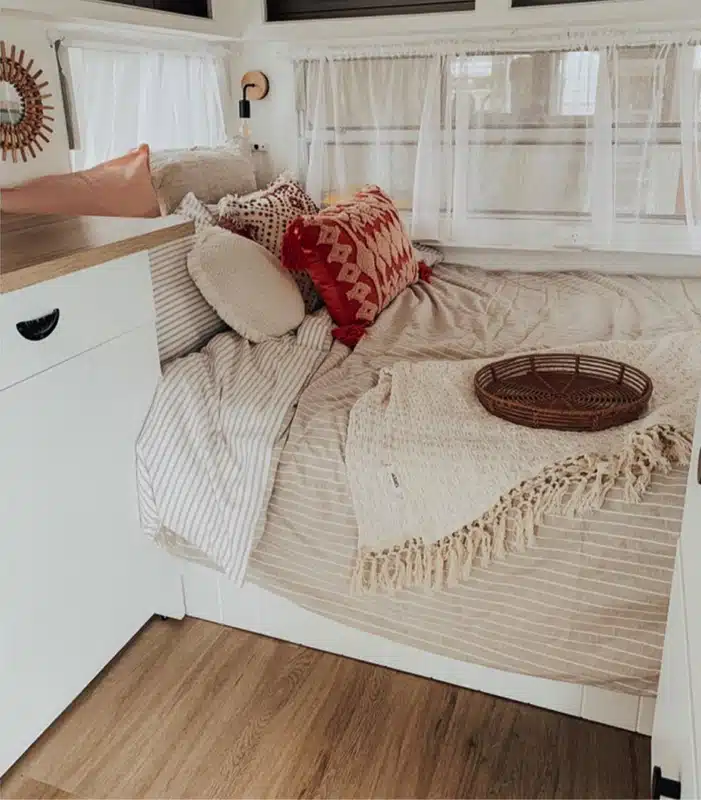 Minimalist kitchen
Sadie has quite the scandinavian feel, in my opinion, and I think that's mostly due to the kitchen area. With that light colored wood countertop (with sharp-ish edging), and a sleek black faucet contrasted against the plain white subway tiles; it just looks clean, uncluttered and stylish.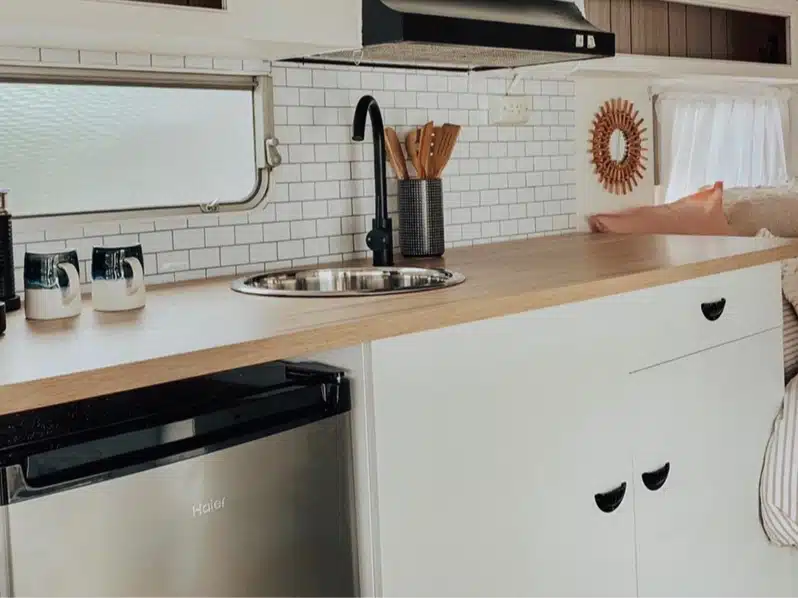 Follow Sadie over on Instagram @sadie.the.caravan  
Mona
Mona is a Millard caravan that has been transformed in just a short time. From arriving on a tow truck, to now being a beautiful holiday home on wheels!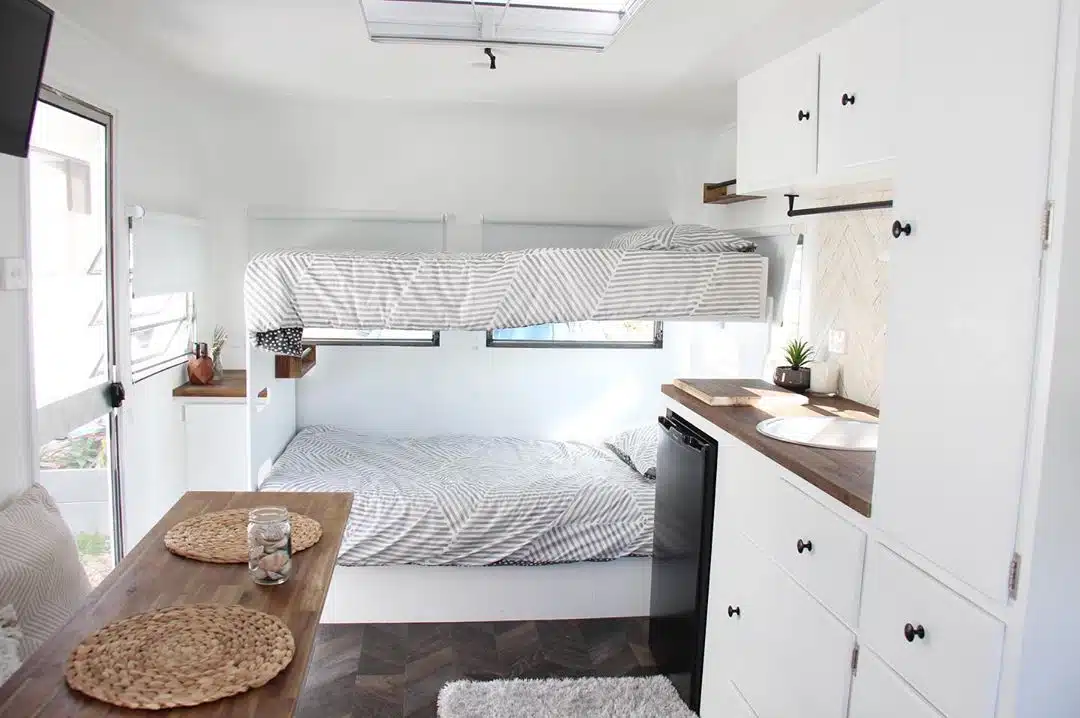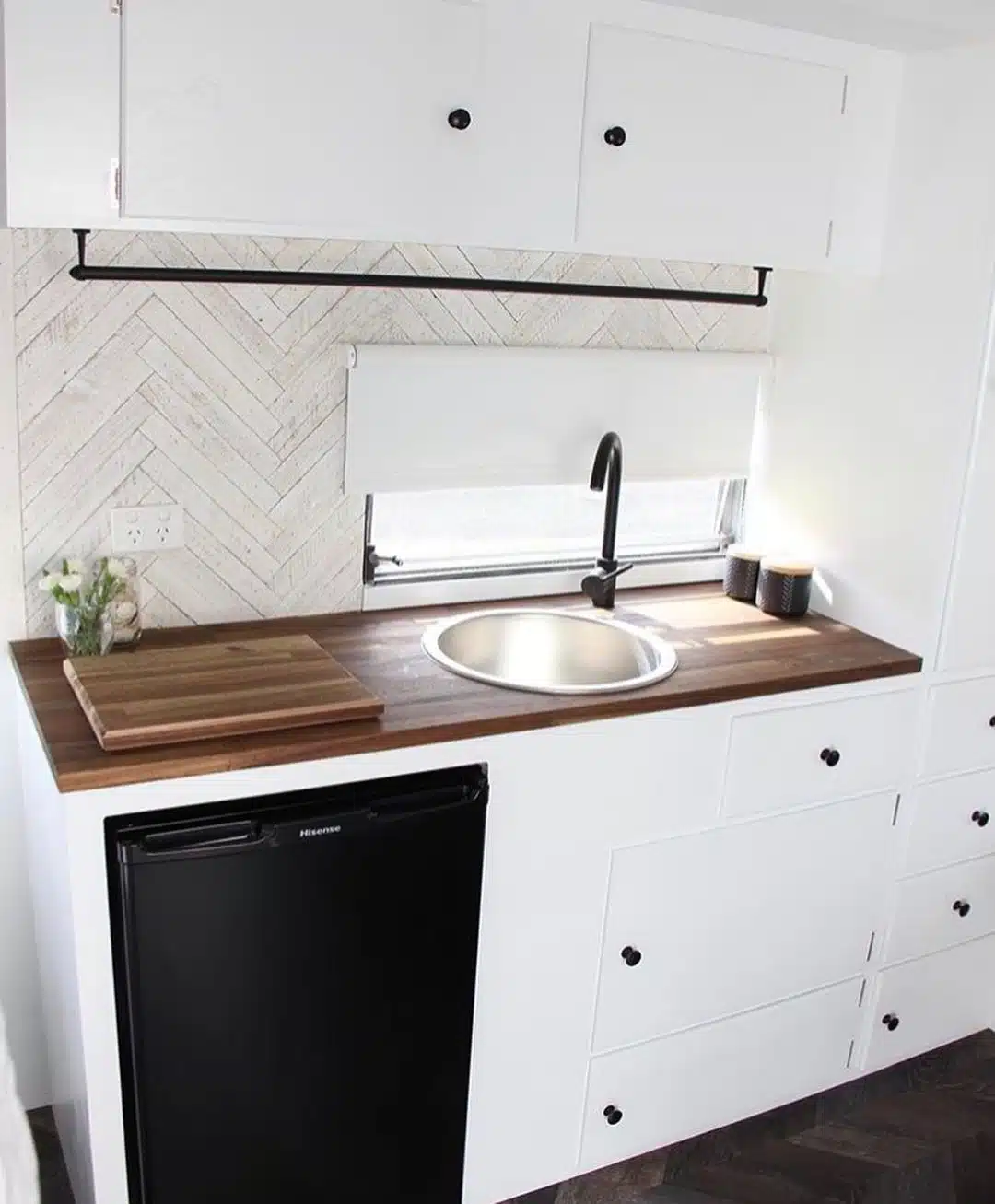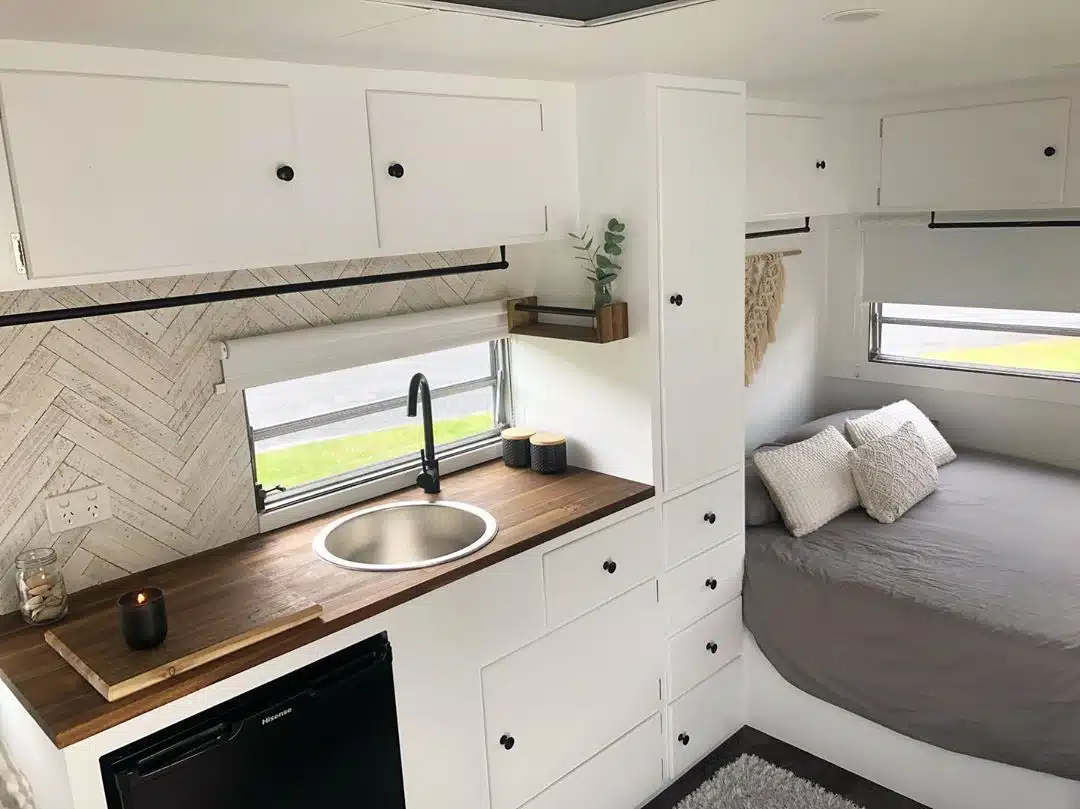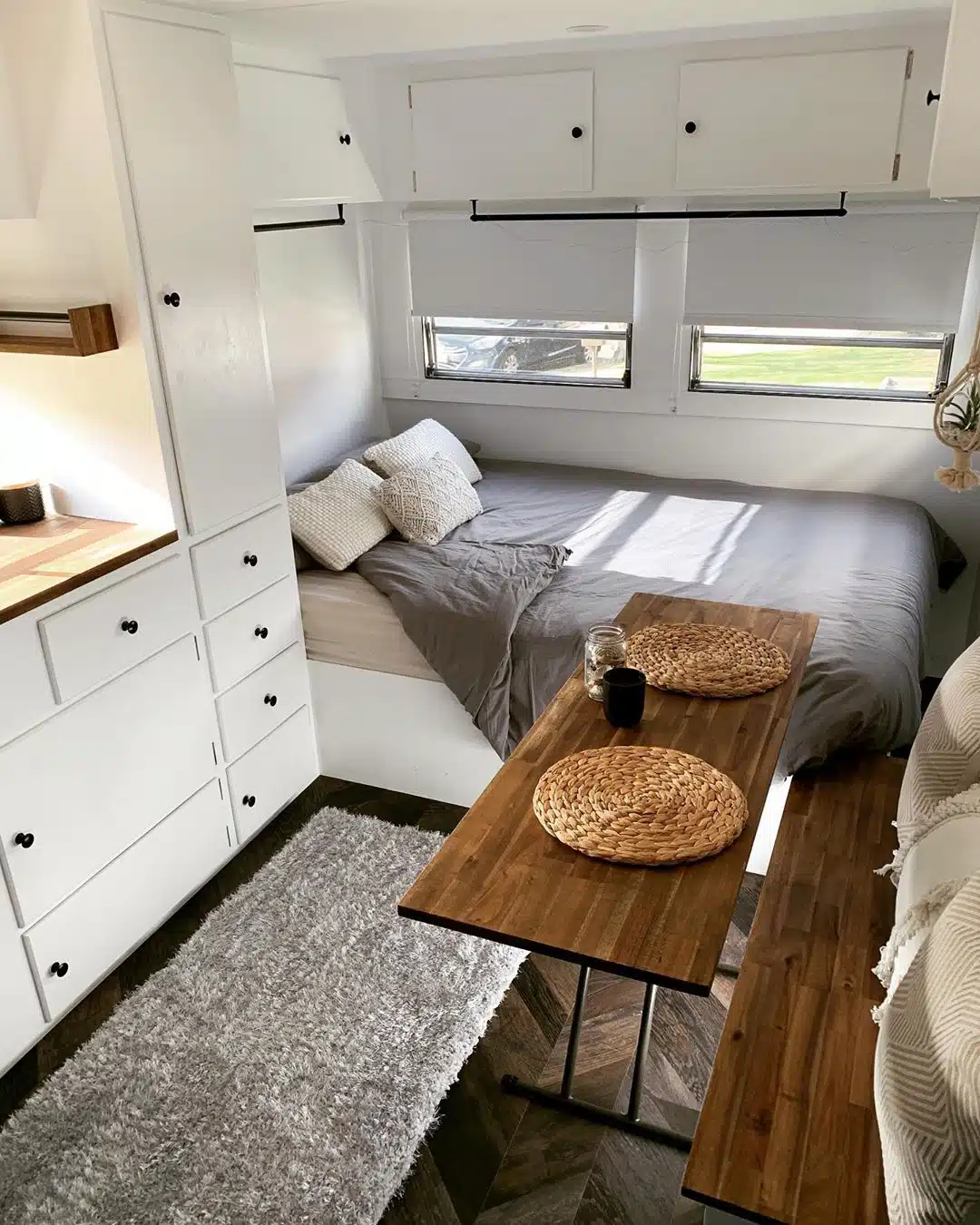 Unique, hand-made details
There is so much to love about Mona, but one feature that really stands out to me, is her totally unique backsplash. 
Chris and Amanda did originally put on tic tac tiles but decided that she needed something one-of-a-kind. So Chris used pallet pine to create the back splash in a herringbone pattern, then painted and distressed.
And it looks fab!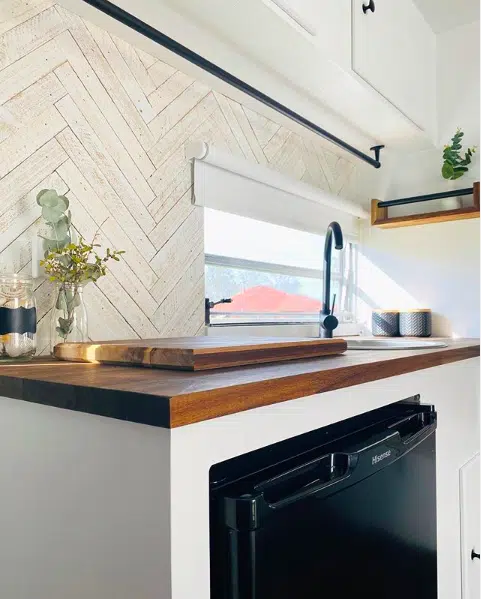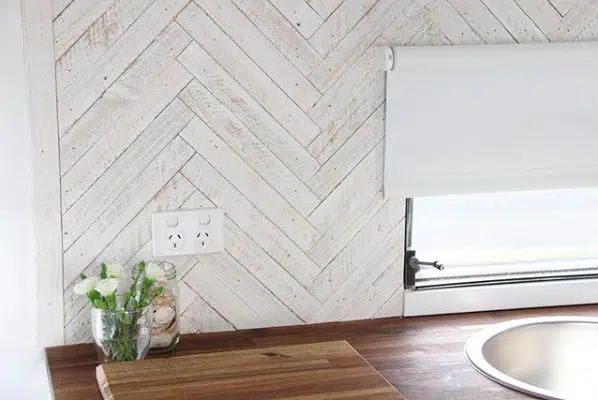 You can see more of Mona over on her very own Instagram account @monathemillard  
Sadie (2)
Now that Sadie has been renovated, she's off having adventurous weekends around Australia with her little family.
Sadie didn't get a huge makeover… it started with her exterior paint job, and as time allowed she got a refresh of her interior.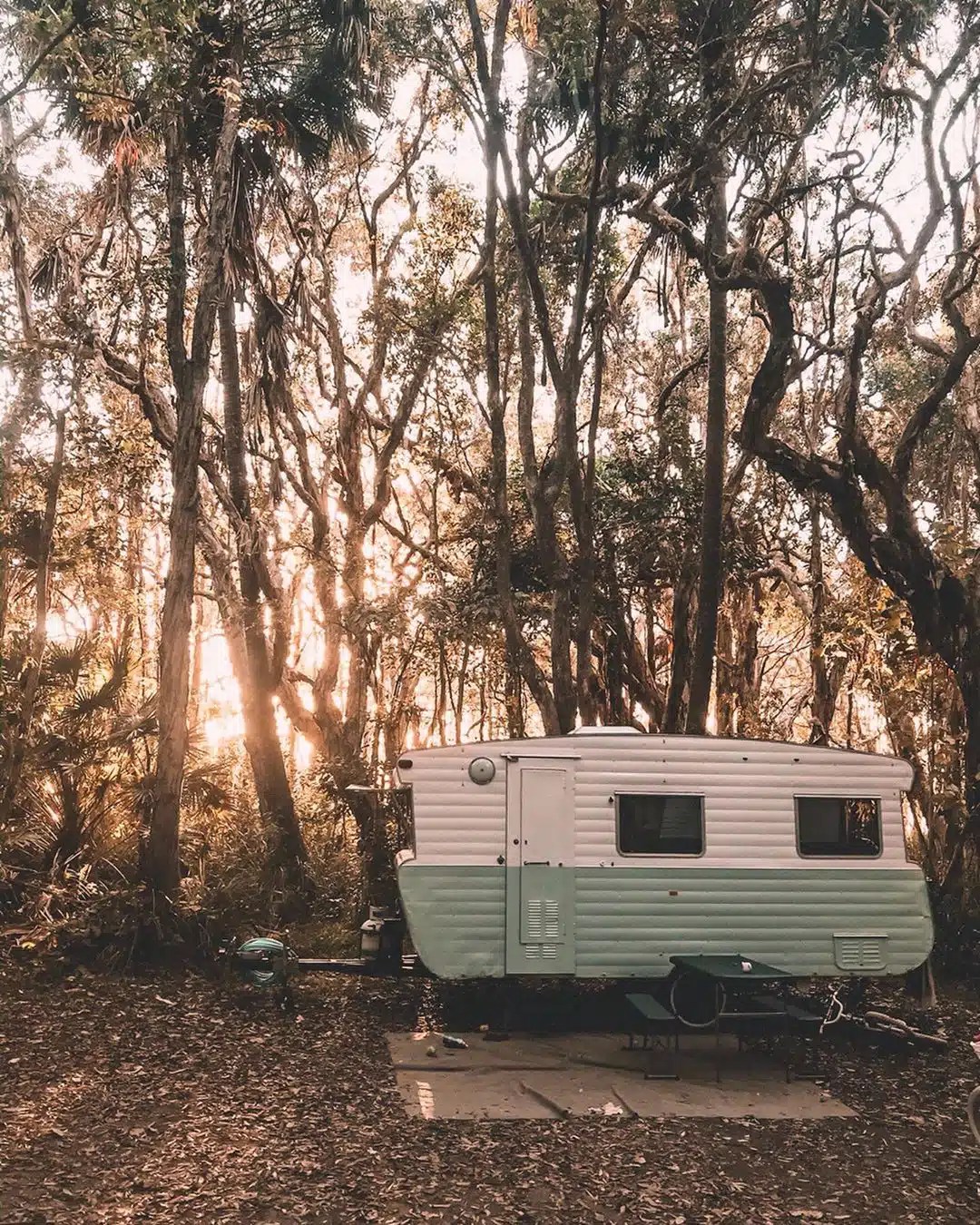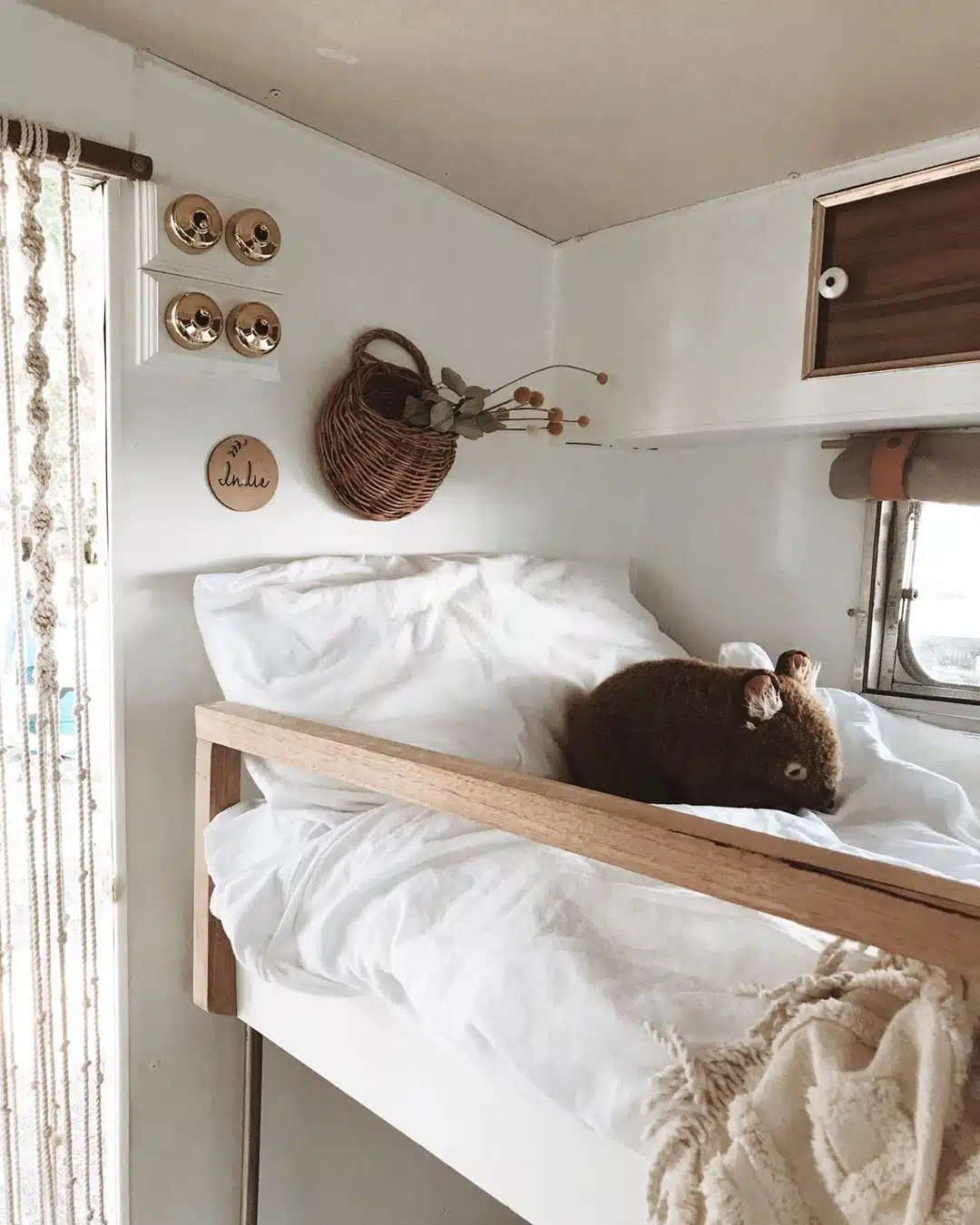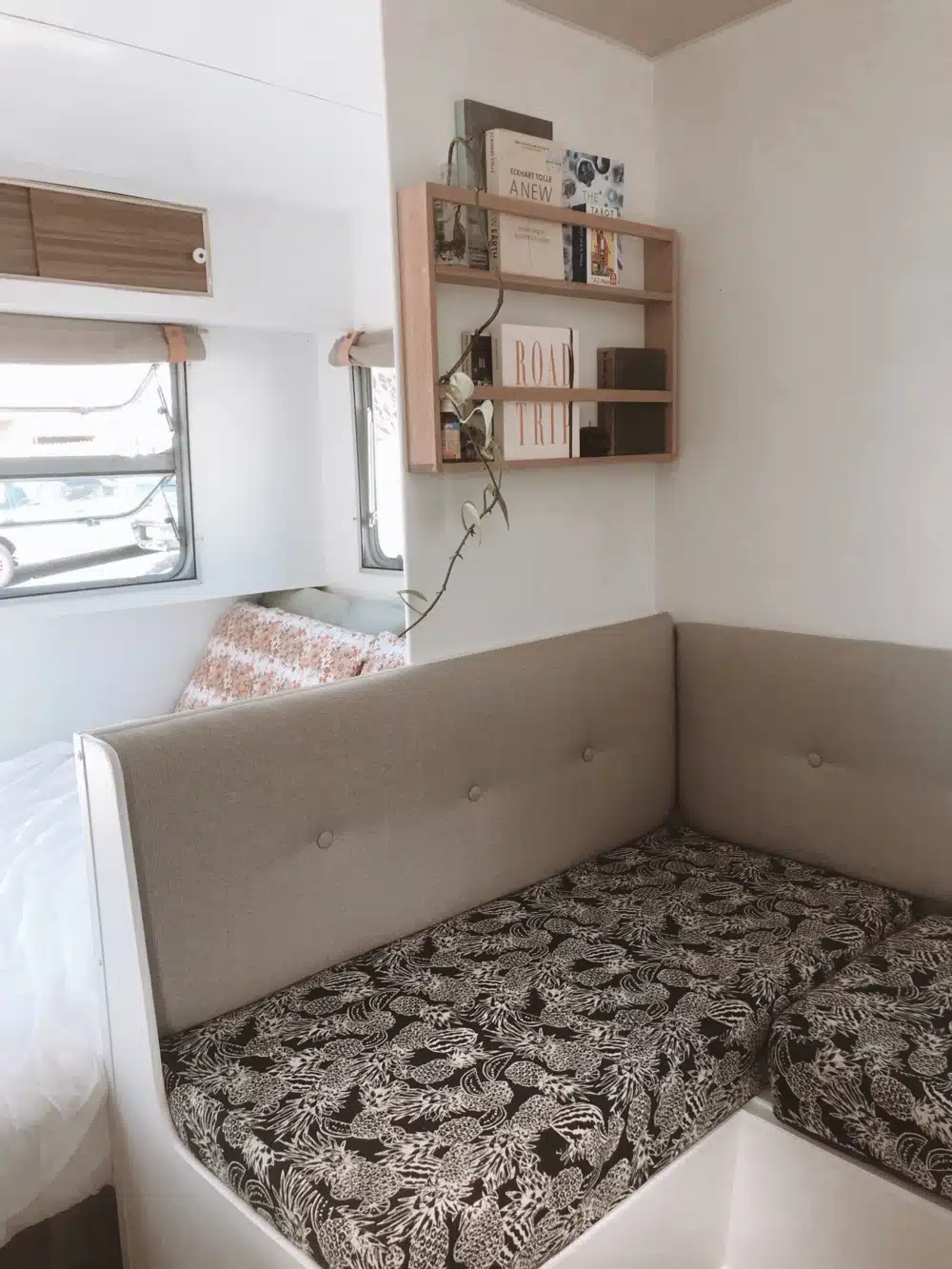 You don't have to change everything
Most of Sadie's cabinetry remained, even the wooden doors. Just the actual cabinets were painted white, some new upholstery and furnishings.
She retains some of the character of her 40 years while still being a perfectly comfortable holiday home for her family.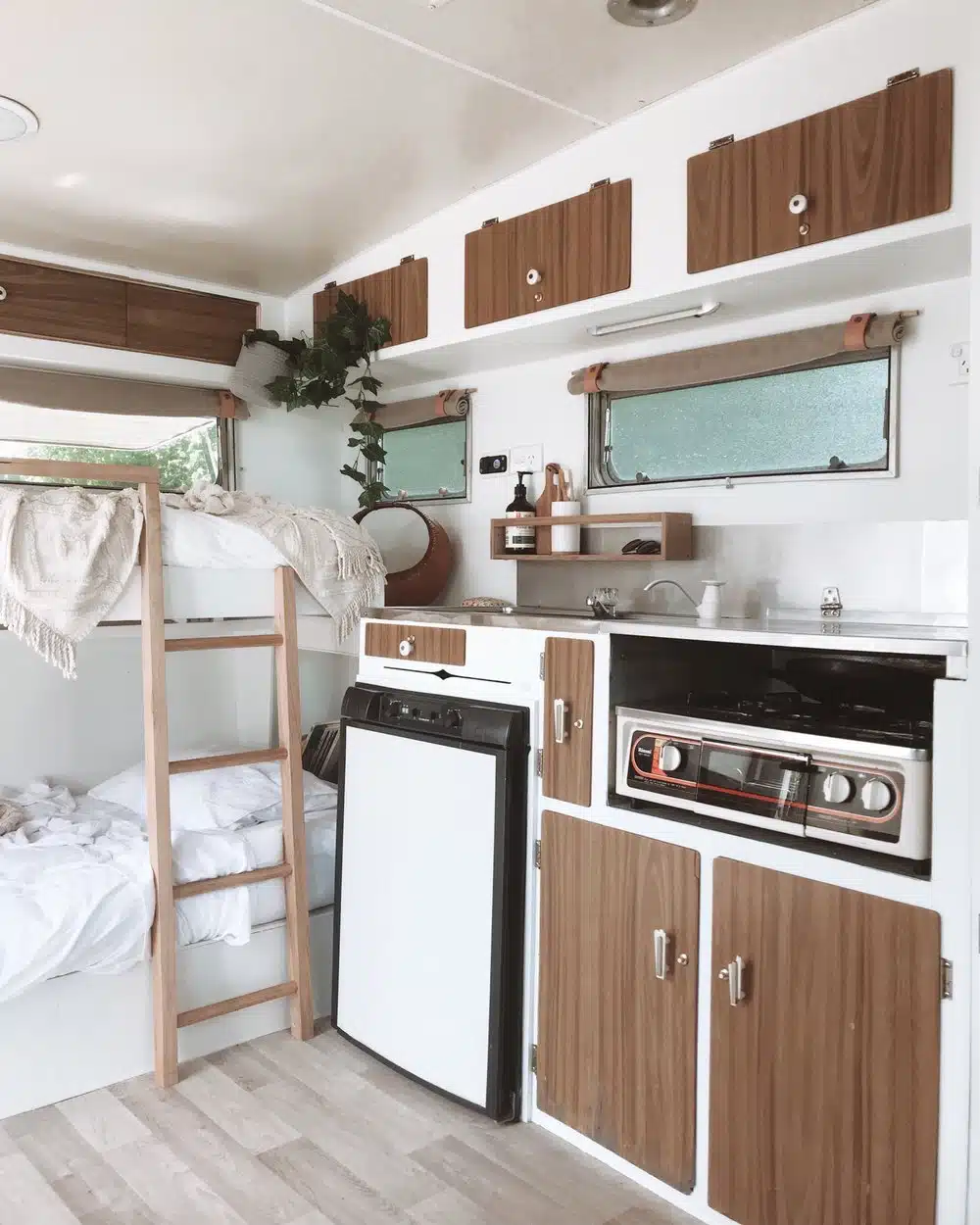 See more of Sadie's weekend adventures on Instagram @weekendswithsadie  
Sunny
Dan & Pen seem to have this renovating thing down. They've renovated their house and now their litle 'Sunny', both of which look lovely!
Sunny doesn't look like most of the other travel trailer renovations that I've seen. Sure, she's got the classic white walls, but she's rich with warm ( or should I say 'sunny') colors and interesting textures.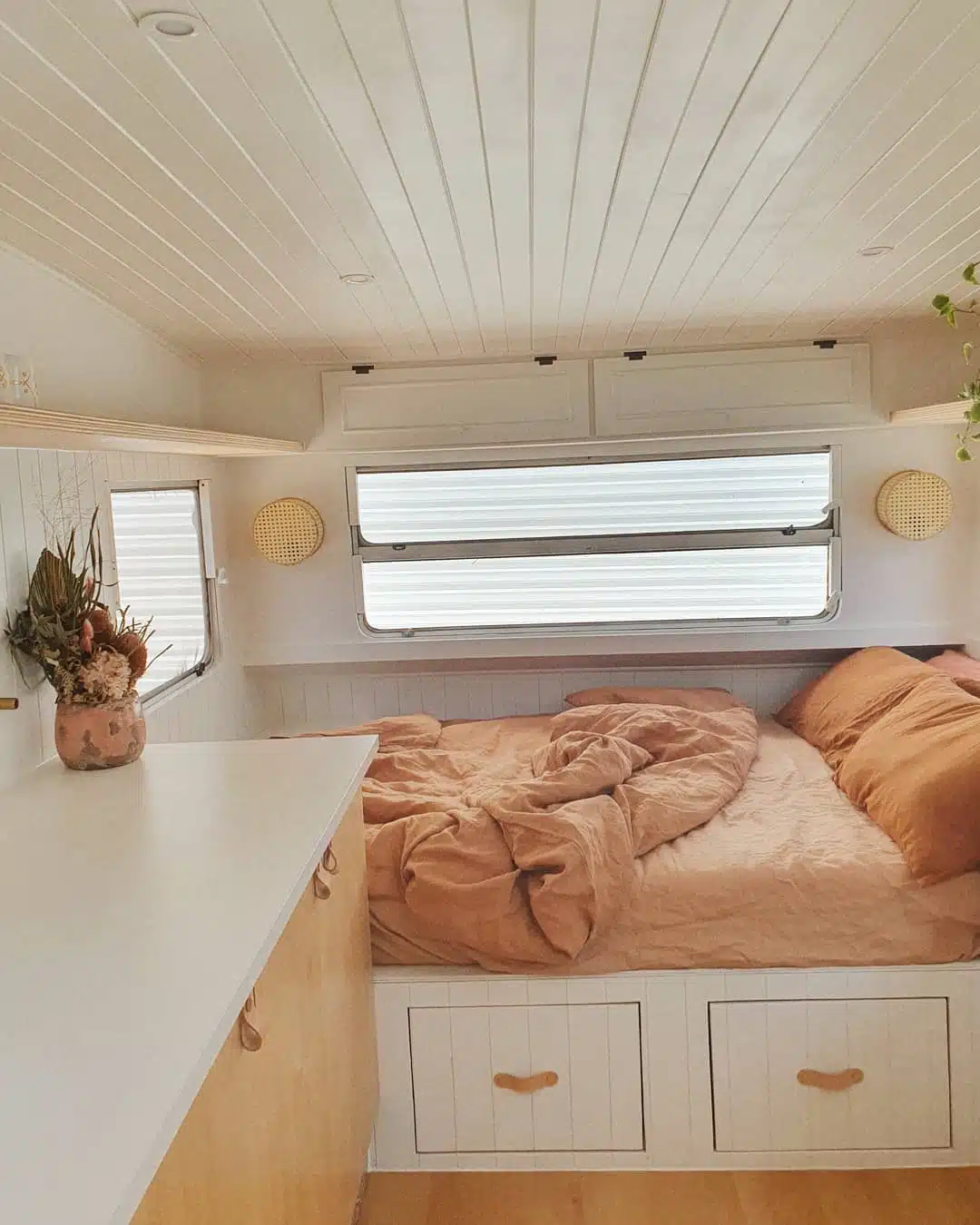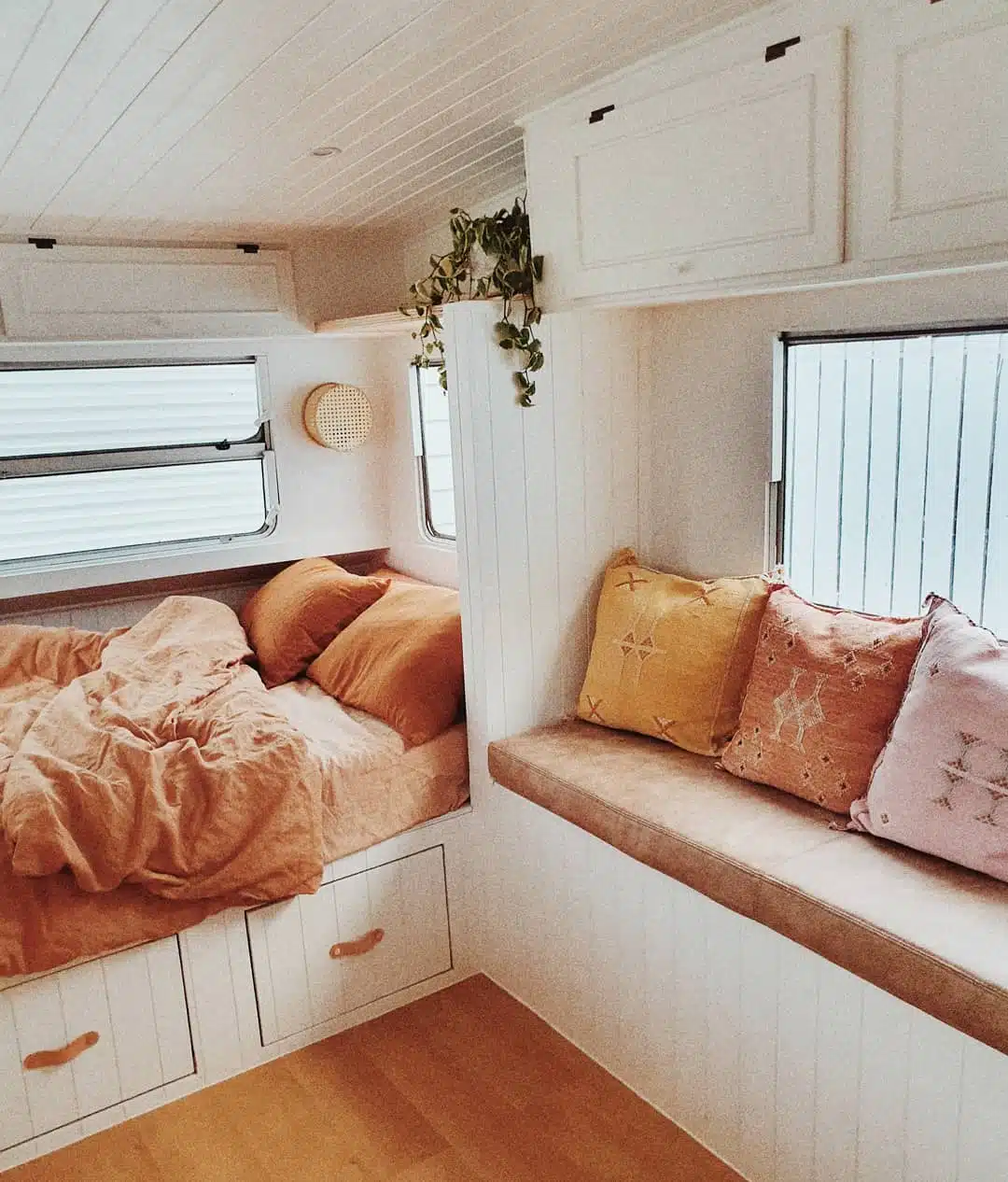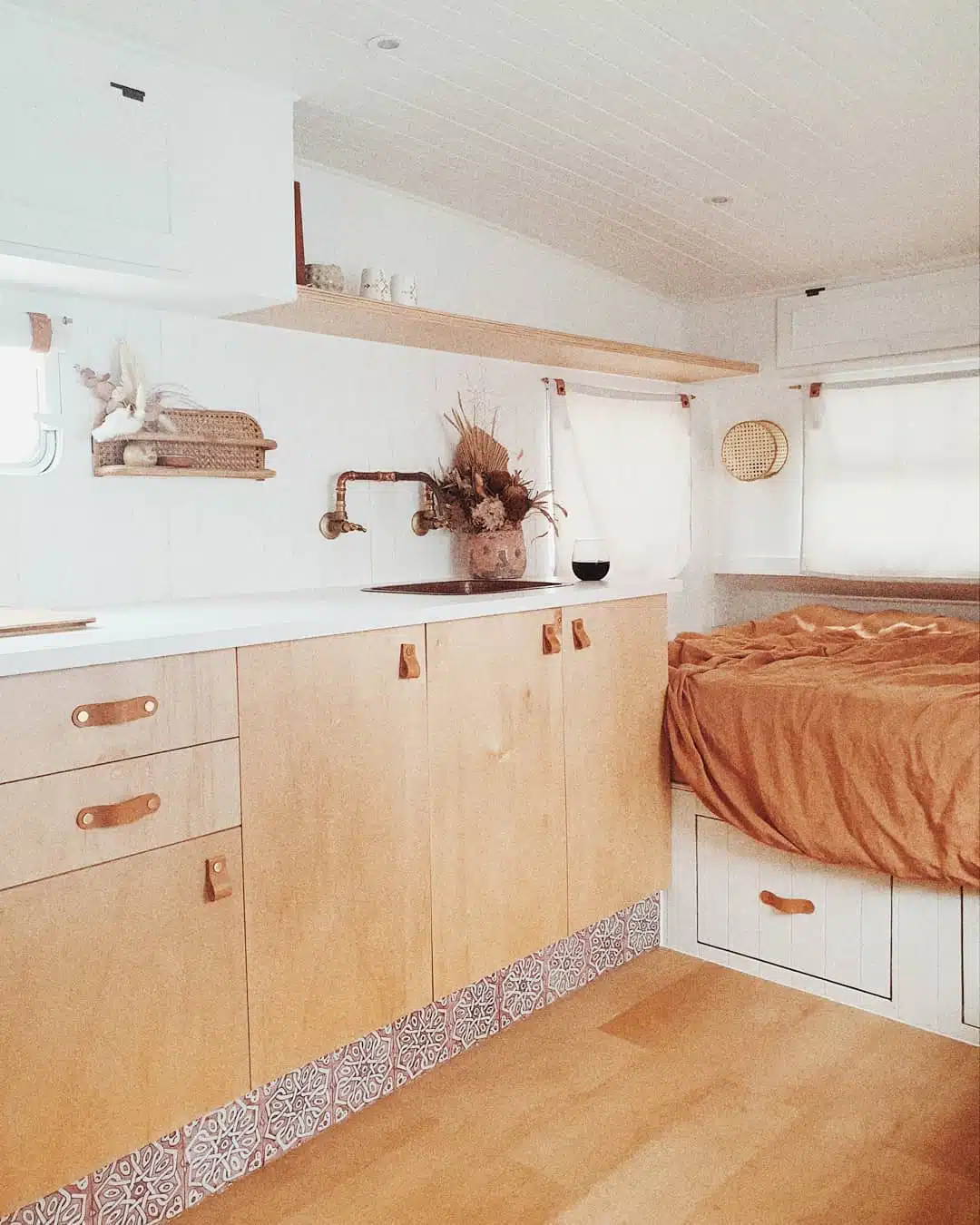 Use different textures
In this one photo below you can see the plain plywood shelf above the window, copper tapware (faucet), leather pulls and little cane basket attached to the wall beside the faucet. Such different materials yet they all work so well together, making this space functional but totally not boring.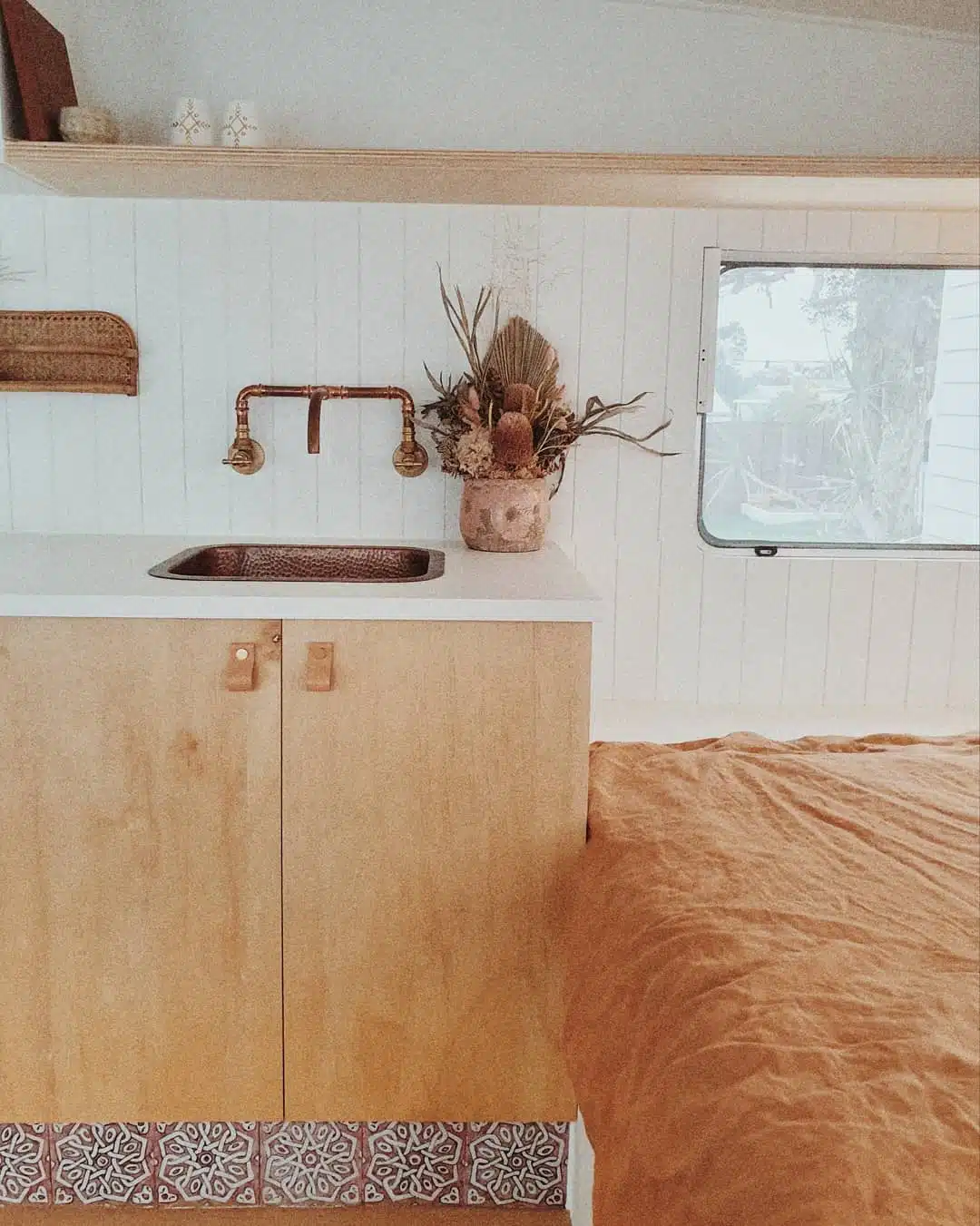 You'll love all the pictures of renovating Sunny that Dan and Pen have on their Instagram (see the before pics in their stories) @project.sixteen  
Violet
Violet looks like a vintage caravan on the outside, but step inside and you'd be forgiven for thinking you'd stepped into a luxurious resort.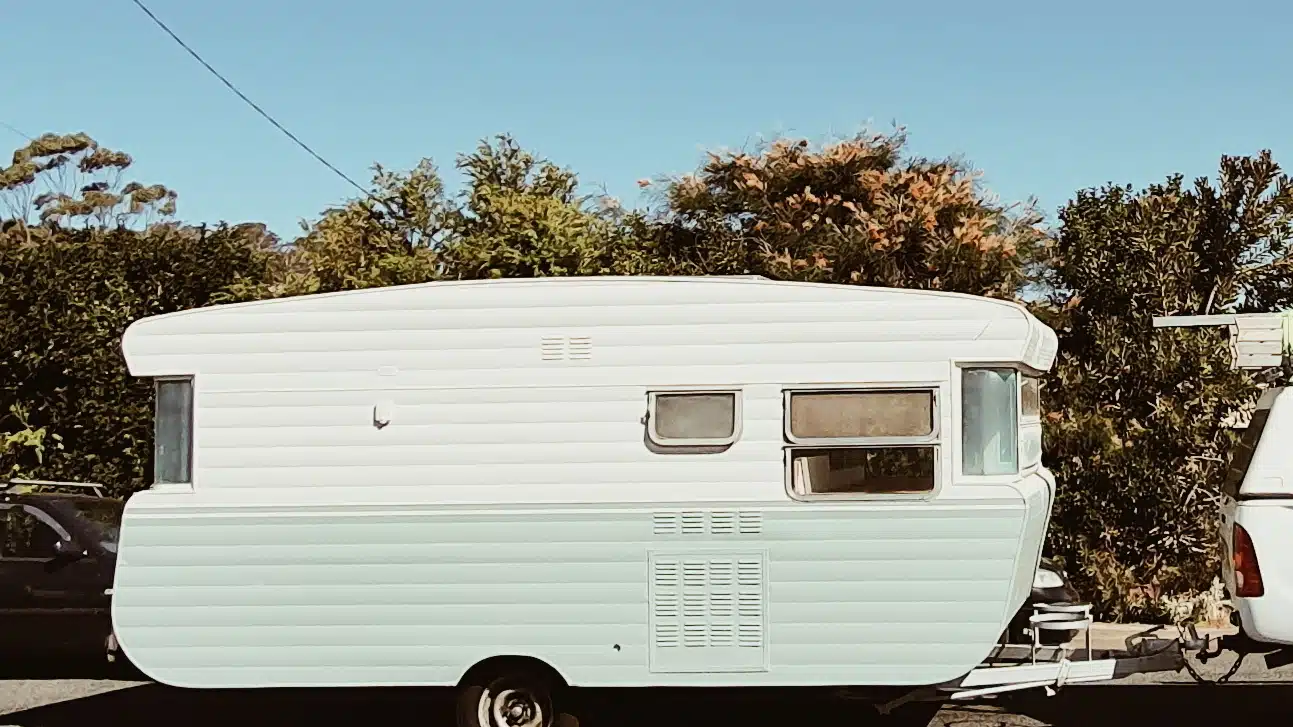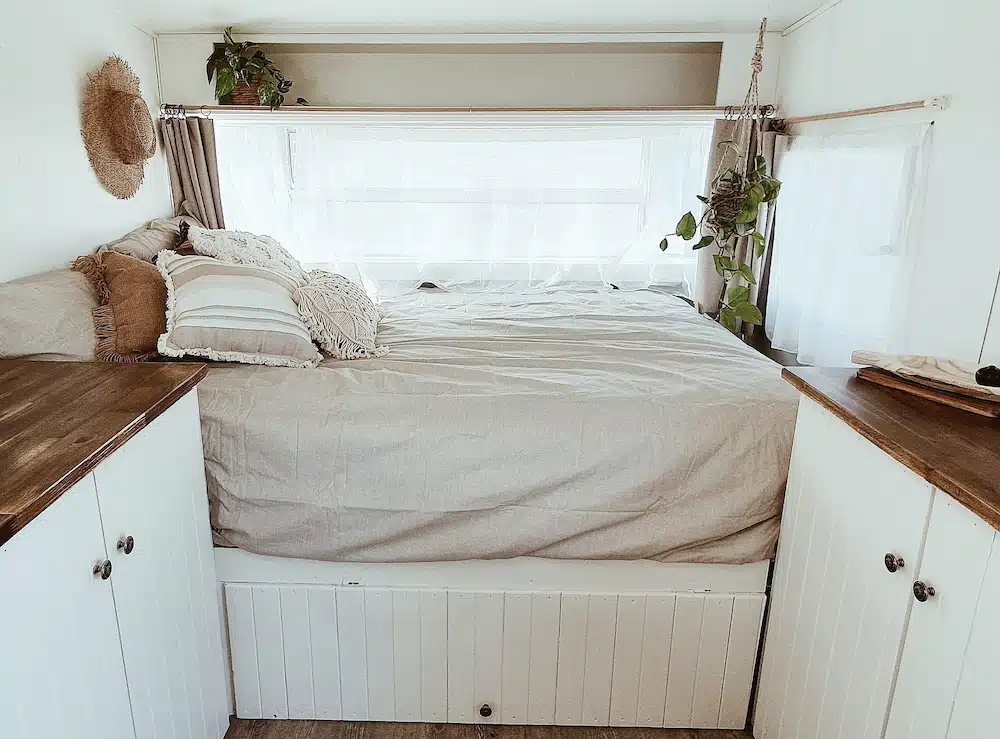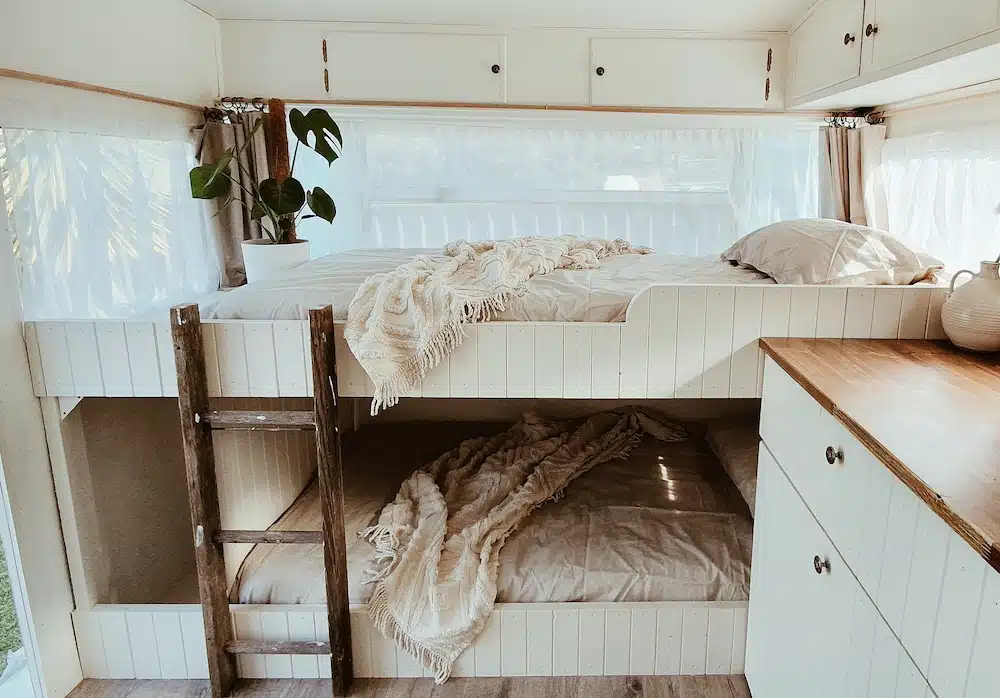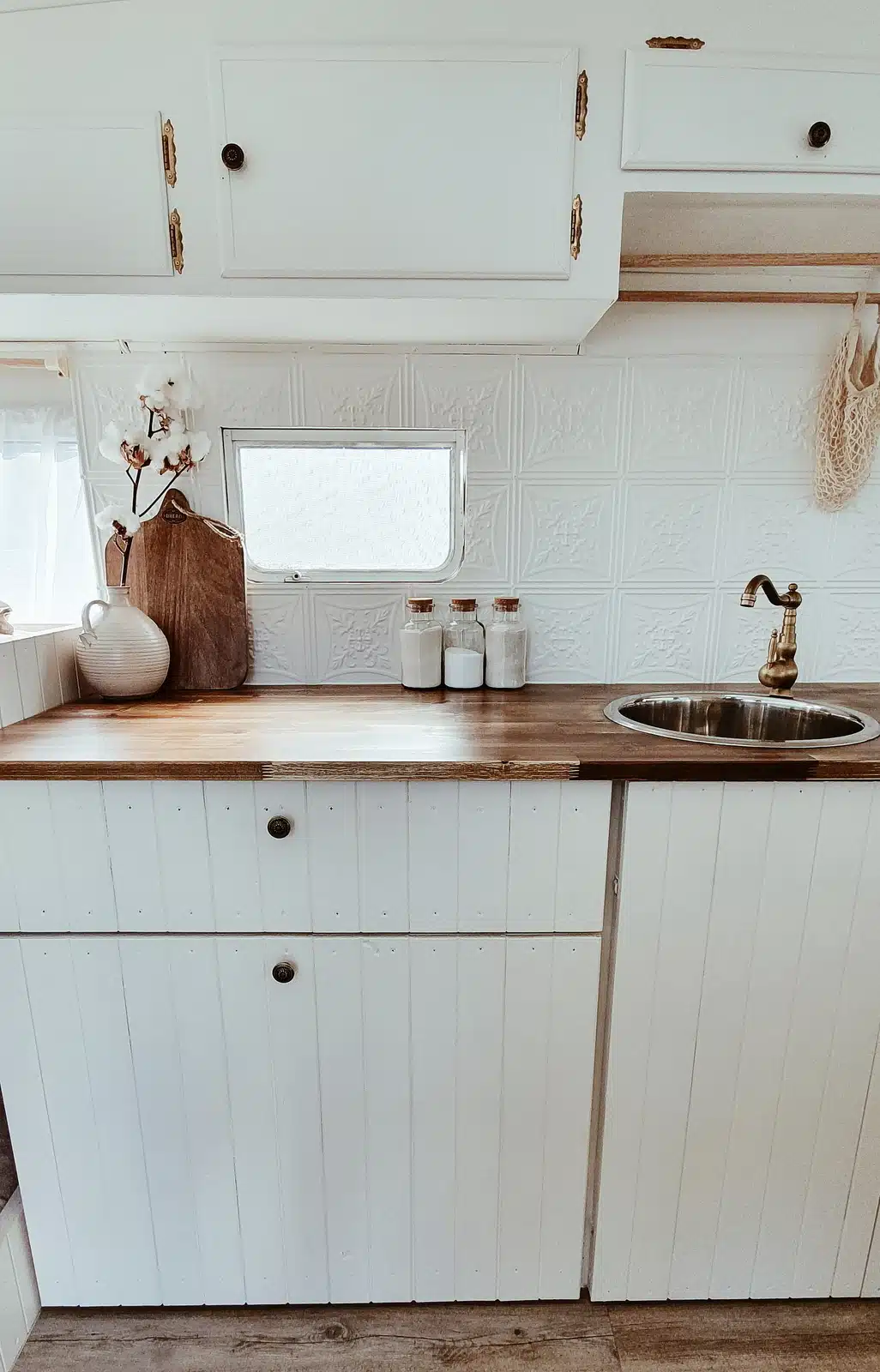 Add some olde worlde charm
The warm wood countertops, panelling on the lower cabinets, vintage tap and pressed tin splashback all add an olde worlde charm to this otherwise modern girl.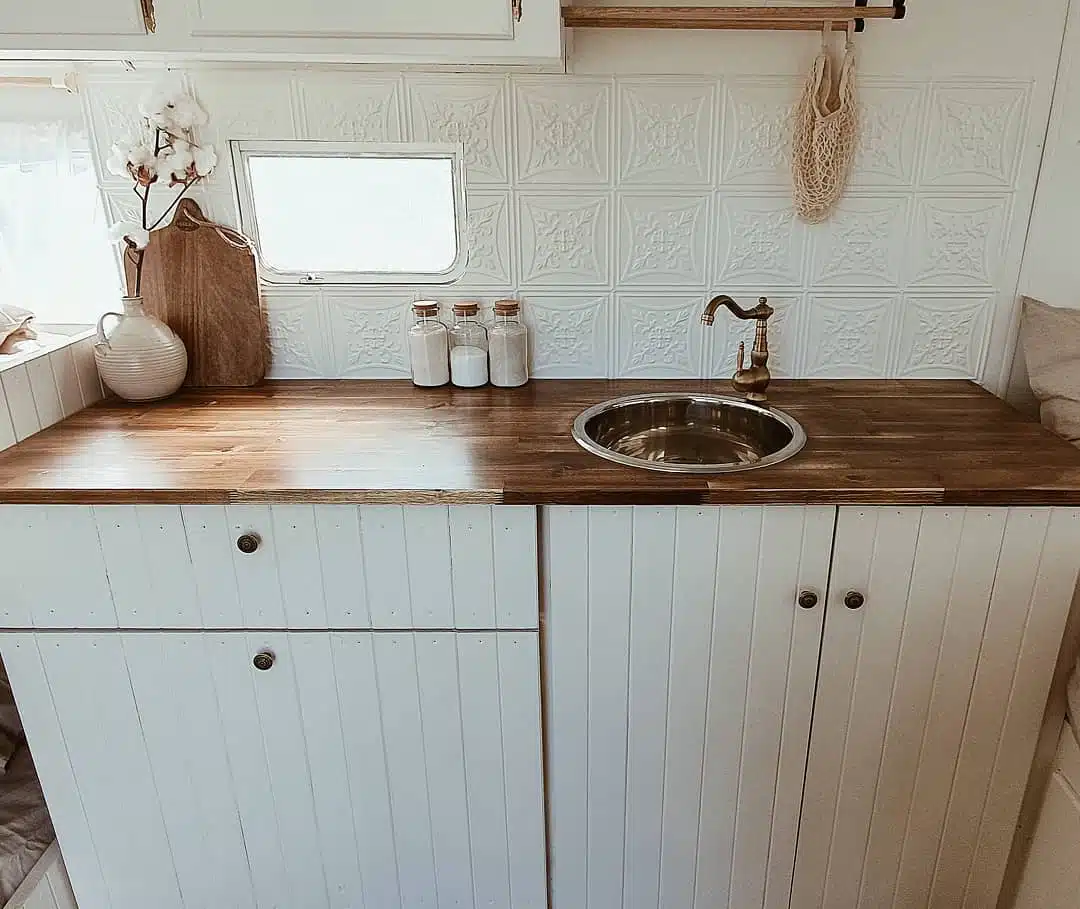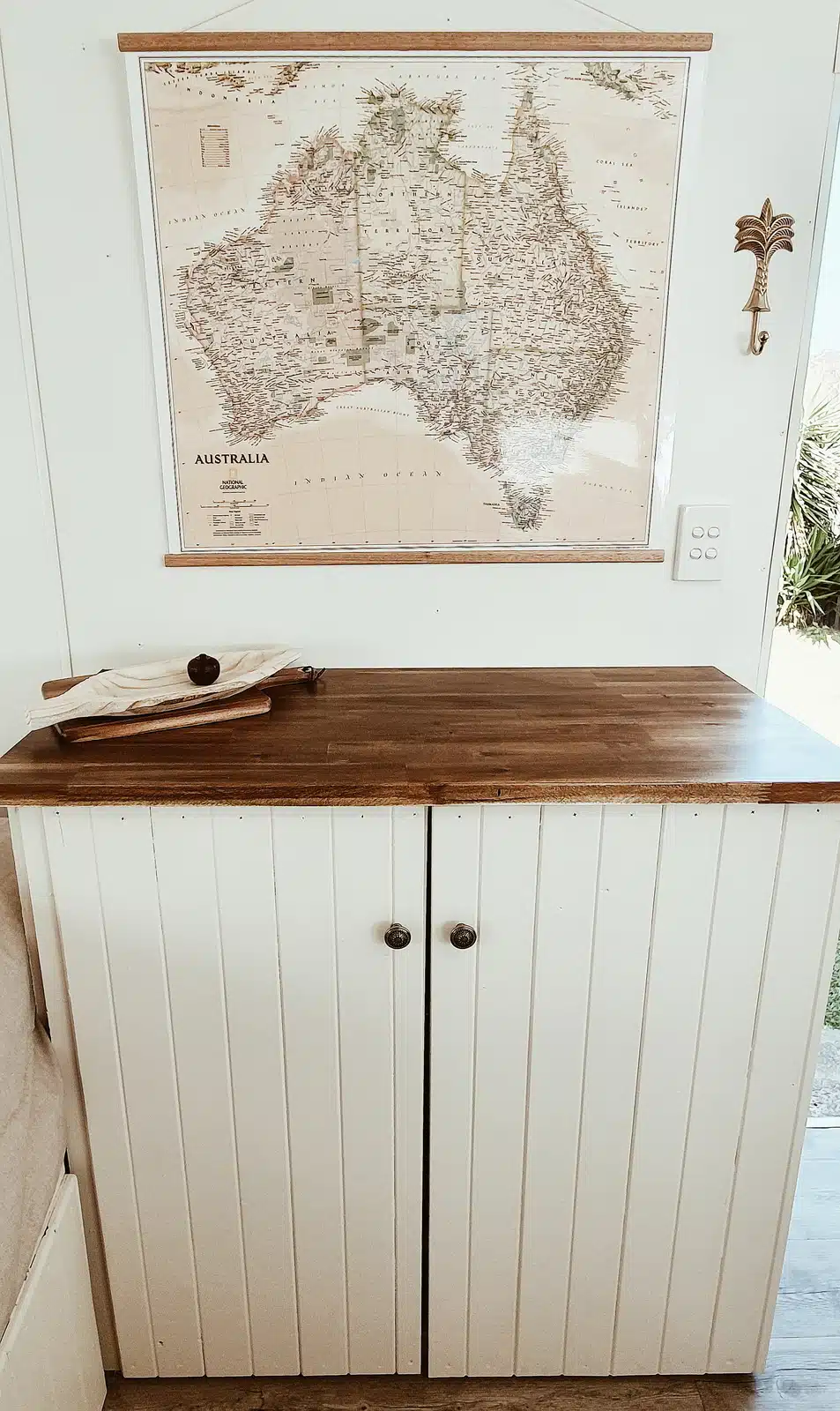 See more photos over on Instagram at: @huddyandme
York
I've left my favorite till last. This little (and I mean little, she's only 11ft long) travel trailer is just too dang cute. I can't handle it.
Emma did this renovation (I'm sure Ollie must have helped at least a little bit!?) and though she's already got another caravan to renovate, this little beauty is an outstanding first go!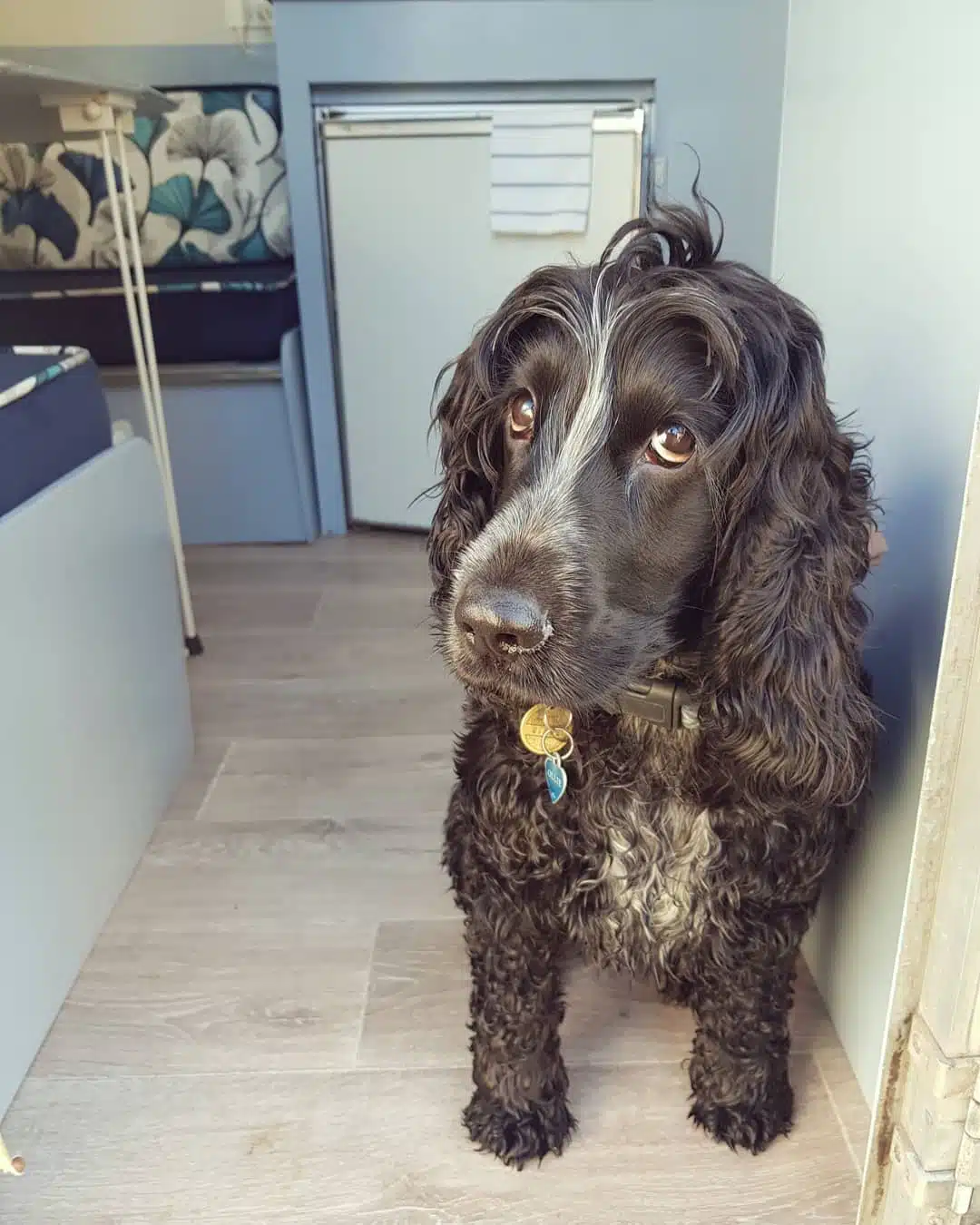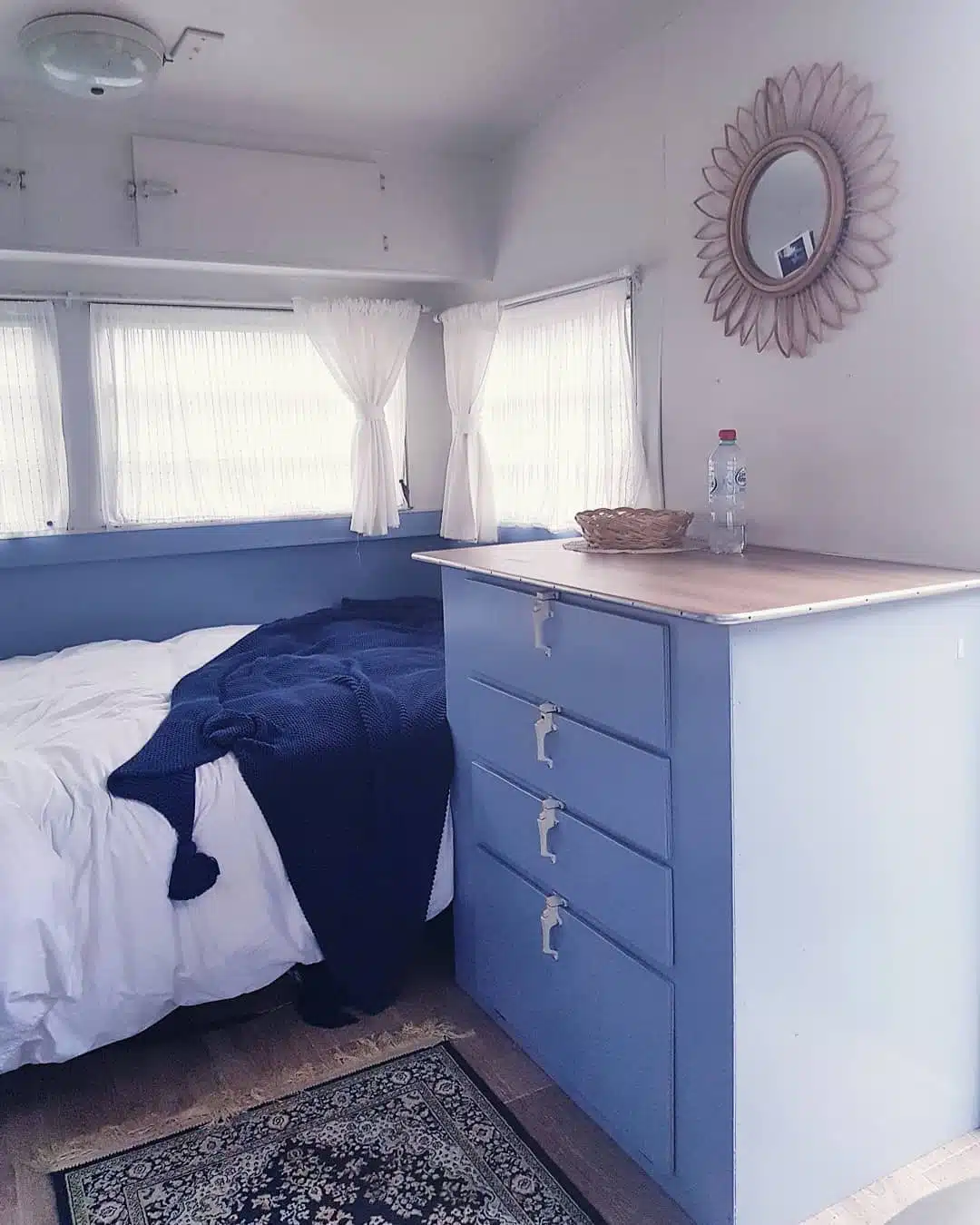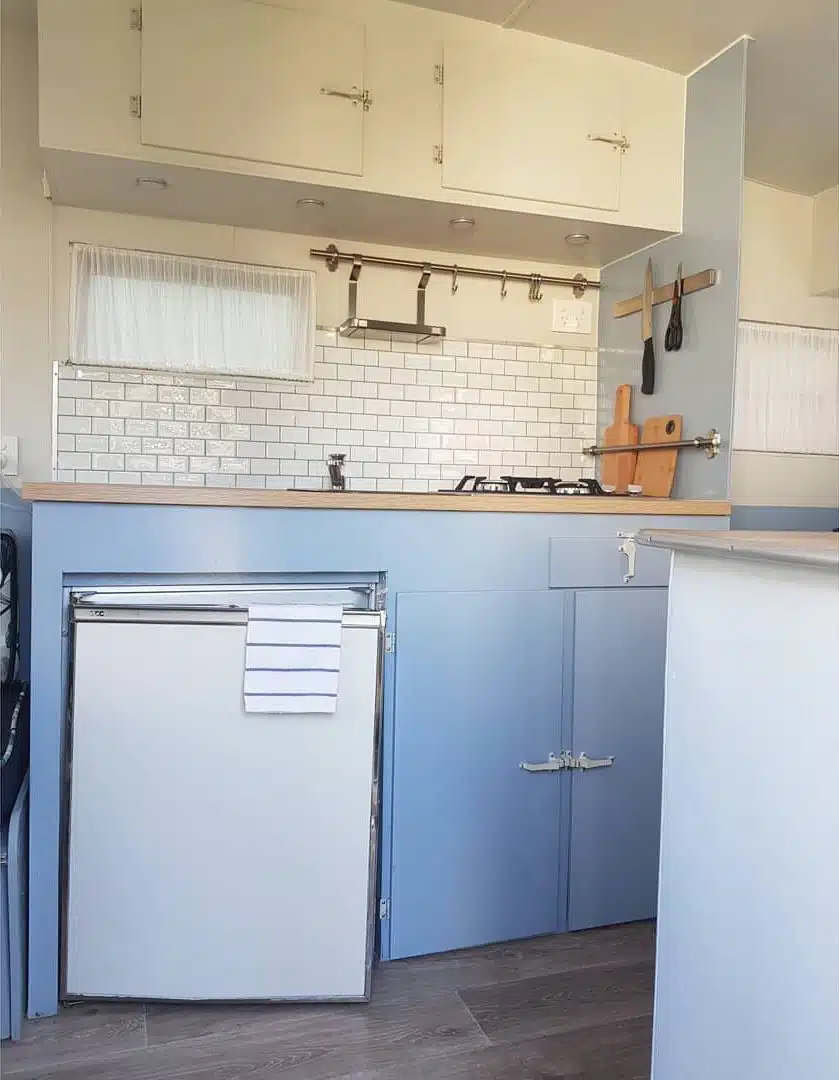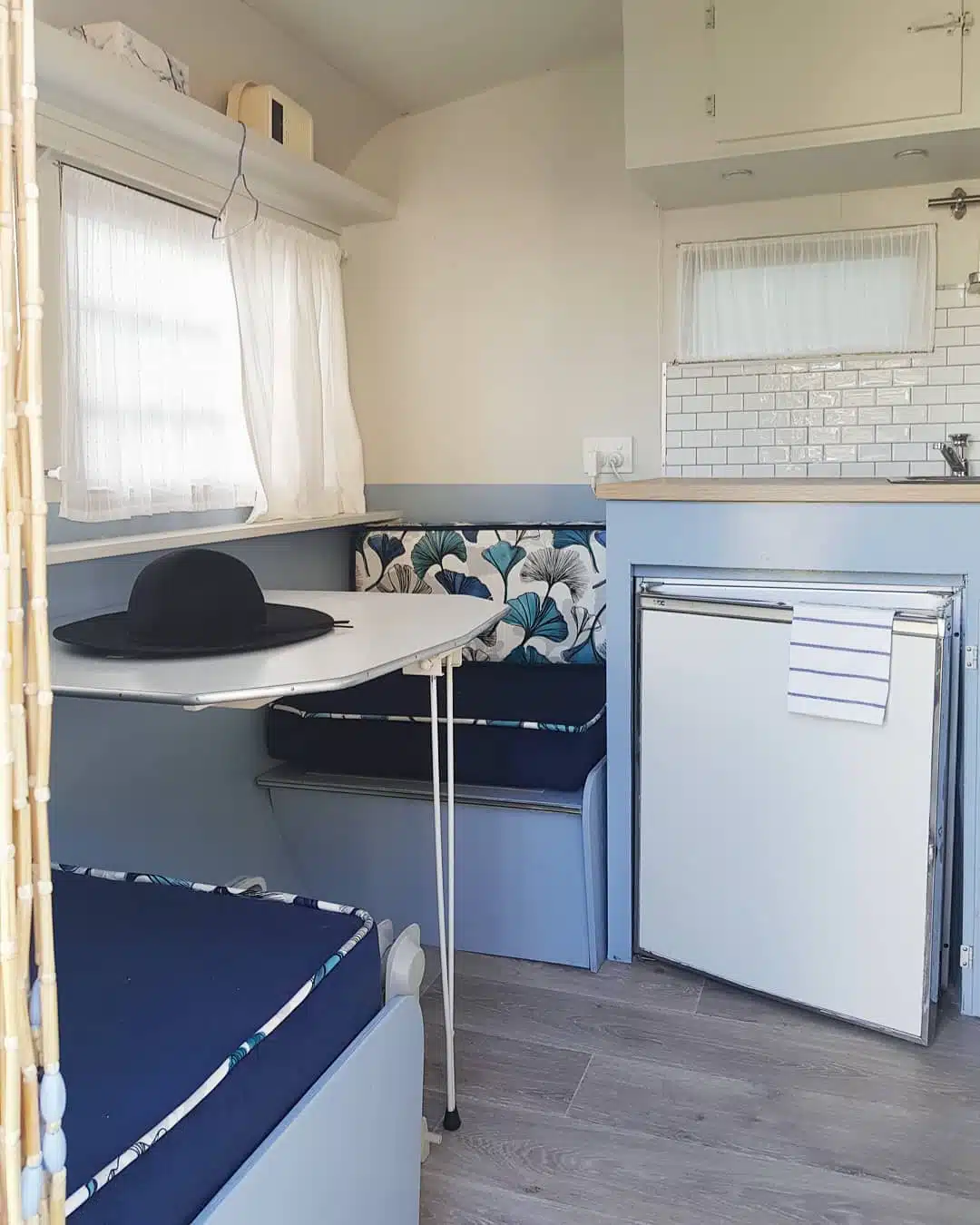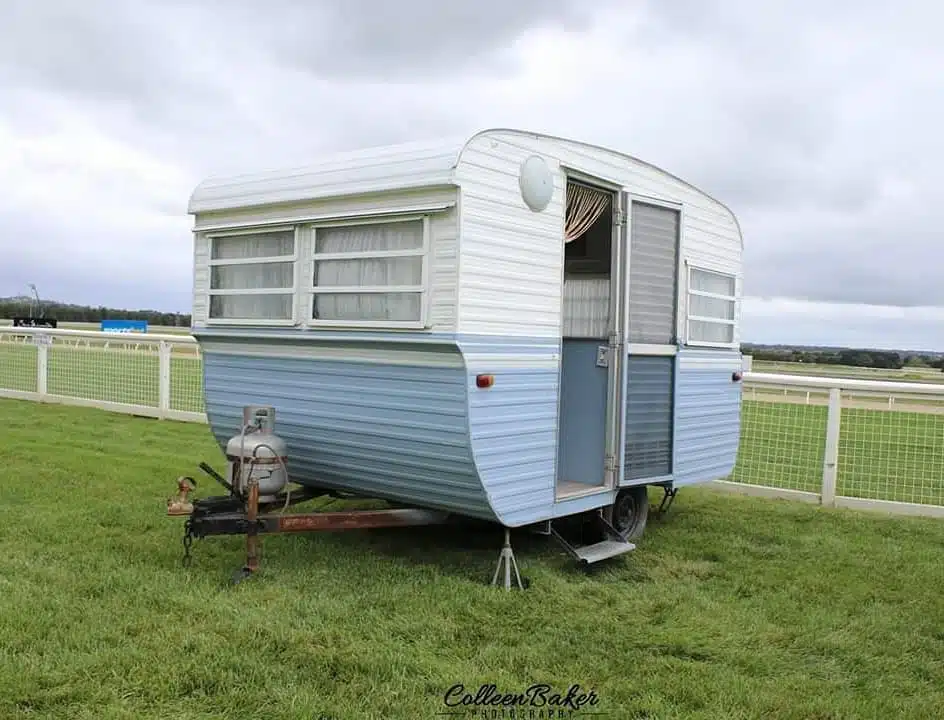 Don't be afraid of color
Emma shows us how the use of color can add so much to this small travel trailer interior. Most people would have only gone with white, fearing that too much color would have made the already small space, feel even smaller.
But this blue hue, makes the space feel fresh and airy and so calming!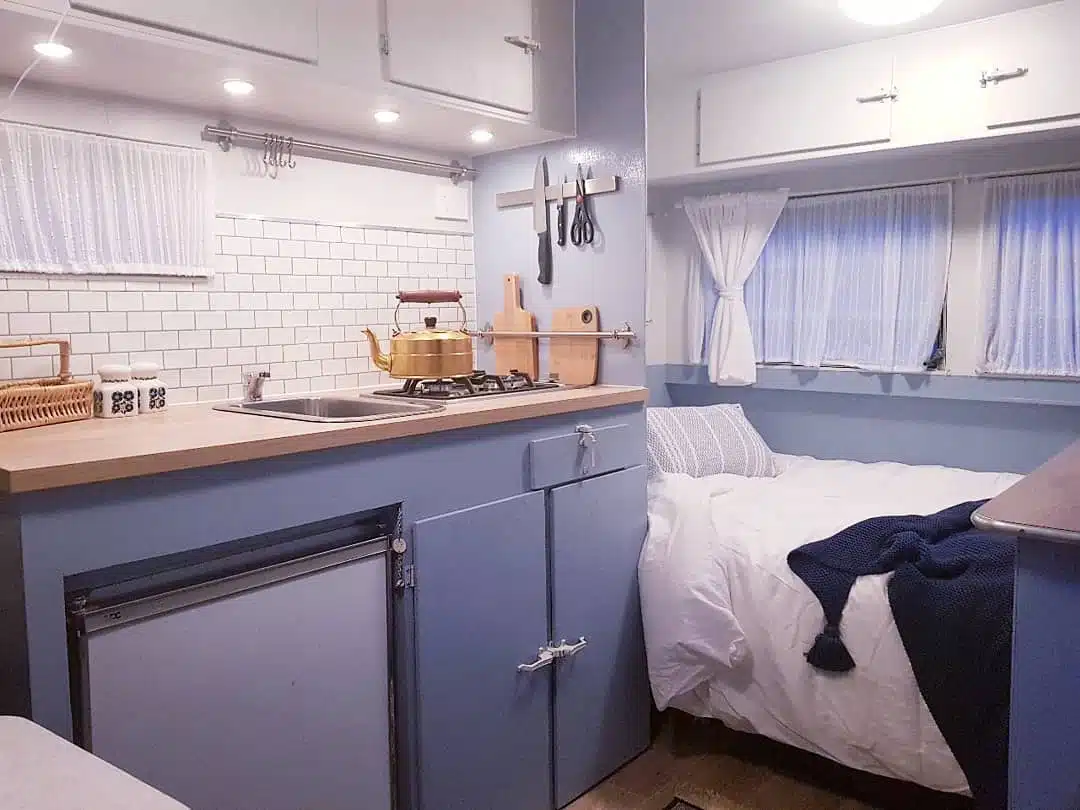 See more of this fantastic caravan (and Emma's next travel trailer project) on Instagram @york_caravan
Side note: Have you noticed that almost all these caravans have a name? Here in Australia we seem to love naming our little homes on wheels, but it's only these older caravans that get given names. 
I'm not sure why that is, but gee I love it!
Do these travel trailer remodel ideas inspire you? I love them, but it's also made me more nervous about undertaking our own renovation, as I know ours isn't going to look this good!
Pin these 'Travel Trailer Remodel Ideas' for later